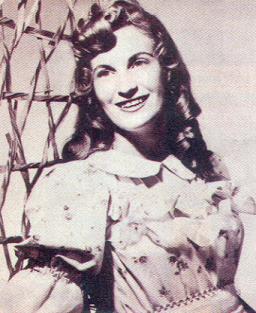 Near the end of Skeeter Davis' honest, sometimes unsettling 1993 autobiography,
Bus Fare to Kentucky
, she concludes that "without the valleys, I could not have enjoyed the mountains." True enough. She's journeyed through poverty, musical triumphs and stumbles, controversy, three marriages, and traumas capped by sixteen years battling the cancer that ended her life September 19 at age 72.
Mary Frances Penick, born in a two-room cabin near Glencoe, Kentucky, in 1931, was the first of William and Punzie Penick's seven kids. Her grandfather, impressed by her energy, nicknamed her "Skeeter." Around 1947 the Penicks relocated to Covington, Kentucky, where she sang with high school classmate Betty Jack Davis. As the Davis Sisters, they gained momentum working at Detroit's WJR Barnyard Frolics in the early '50s.
Their smart, assertive harmonies impressed RCA's Steve Sholes, who signed them in 1953. That summer, as their "I Forgot More Than You'll Ever Know" headed to #1, a violent car crash left Betty Jack dead and Skeeter injured. Betty's conniving stage mother coerced Skeeter into performing with Betty's sister Georgia through 1956. Skeeter had to marry (briefly) to finally escape Mrs. Davis.
Chet Atkins played guitar on nearly all the Davis Sisters' RCA sessions. By 1958 he ran RCA Nashville; suspecting Skeeter's voice had broader potential, he multitracked her vocals to echo the Davis Sisters sound. Amid such masterpieces as "Am I That Easy To Forget", however, were gimmicky "answer" hits such as "Lost To A Geisha Girl", a response to Hank Locklin's hit "Geisha Girl". She joined the Grand Ole Opry in 1959.