Skeeter Davis' RCA Camden Albums
This page is still being constructed.

Throughout the 1960s and 1970s, RCA released several Skeeter Davis albums on their budget RCA Camden label. These albums were primarily repackaged and reissued collections of songs from previous RCA Victor albums, but are notable in that they also contain many songs previously released as singles that were not on previous albums.
---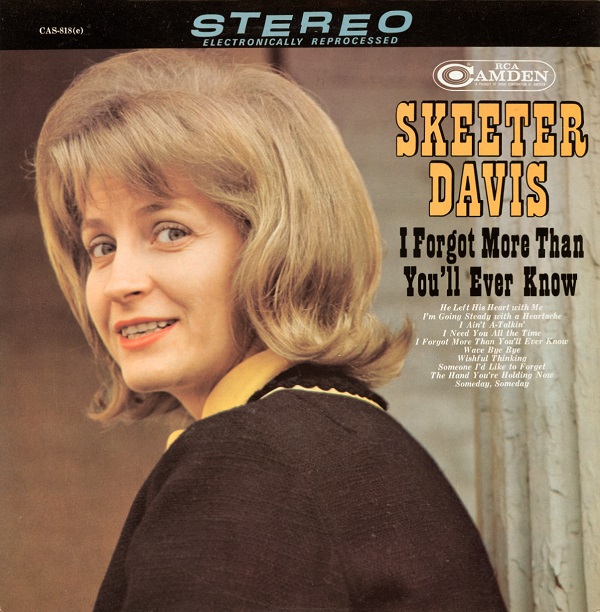 I Forgot More Than You'll Ever Know

	released 1964    

      	songs:	I Forgot More Than You'll Ever Know (Davis Sisters) [Cecil Allen Null]
	        He Left His Heart With Me [Hager]
                I'm Going Steady With a Heartache [Weber- Kane]
                I Ain't A-Talkin' [Miller]
                I Need You All the Time [Hall]
                The Hand You're Holding Now [Robbins]
                Someone I'd Like to Forget [Davis- Wilson]
                Wishful Thinking [Stewart]
                Someday,Someday [W & D Cogswell]
                Wave Bye Bye [Daffan]
         

---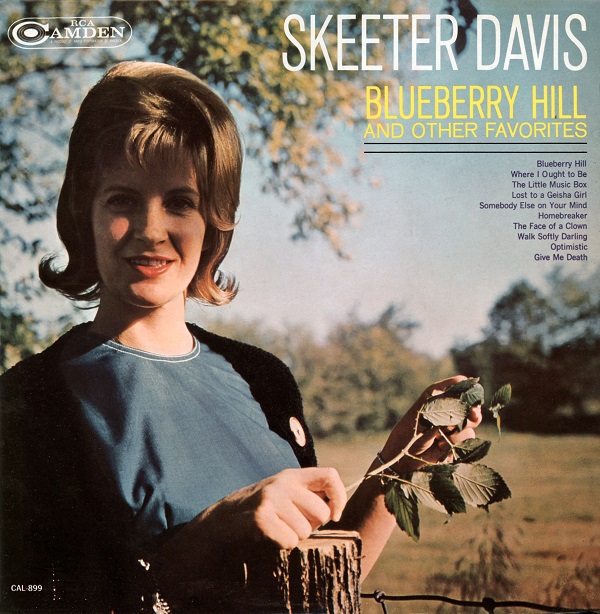 Blueberry Hill

	released 1965    

      	songs:	Blueberry Hill [Lewis- Stock- Rose]
	        Where I Ought To Be [Howard]
                The Little Music Box [Thacker]
                Lost to a Geisha Girl [Williams]
                Walk Softly Darling [Carter]
                The Face of a Clown [Penick]
                Somebody Else on Your Mind [Davis]
                Homebreaker [Davis- Wilson]
                Optimistic [Aubrey Freeman]
                Give Me Death [Davis- Wilson]
             

---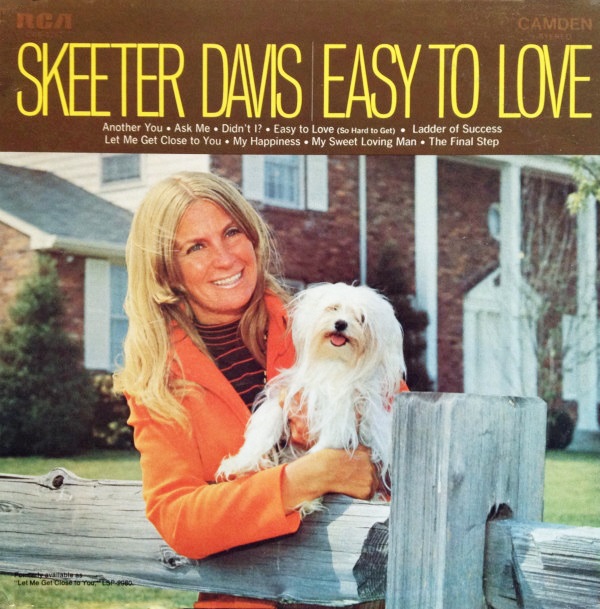 Easy To Love

	released 1970  

      	songs:	Let Me Get Close to You [Carole King- Gerry Goffin]
	        Ask Me [Betty Sue Perry]
                Ladder of Success [Nancie Mantz- Keith Colley]
                Another You [Tillotson- Cosenza]
                My Happiness [Peterson- Bergontine]
                My Sweet Loving Man [J O Duncan]
                Didn't I? [Dottie West]
                Easy to Love (So Hard to Get) [Carole King- Gerry Goffin]
                The Final Step [Davis - Wilson]
         

---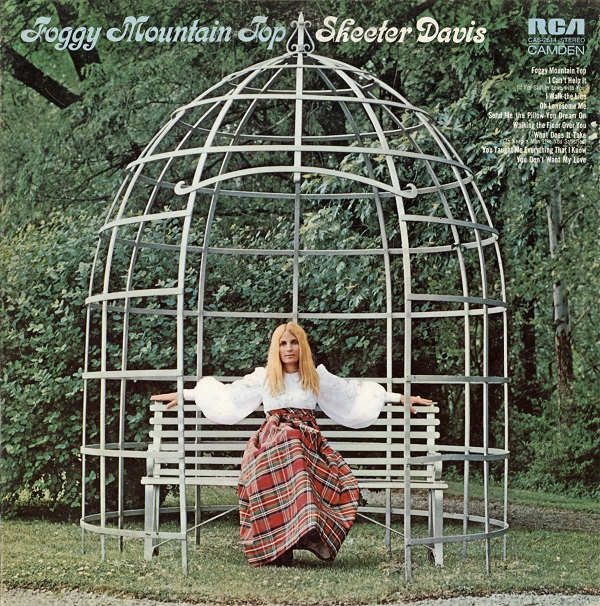 Foggy Mountain Top

	released 1971  

      	songs:	Foggy Mountain Top [Carter]
	        Send Me The Pillow You Dream On [Locklin]
                I Walk the Line [Cash]
                What Does It Take (To Keep A Man Like You Satisfied) [Glaser]
                Walking the Floor Over You [Tubb]
                Oh Lonesome Me [Gibson]
                I Can't Help It (If I'm Still In Love With You) [Williams]
                You Taught Me Everything That I Know [Davis]
                You Don't Want My Love [Miller]
         

---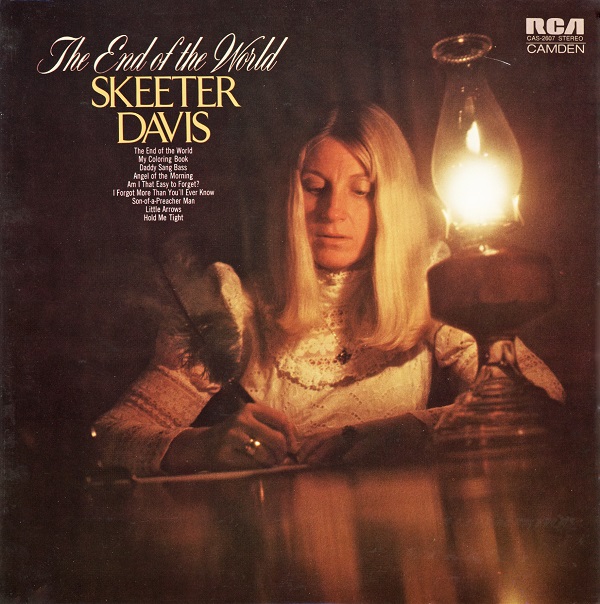 The End of the World

	released 1973    

      	songs:	The End of the World [Dee- Kent]
	        Daddy Sang Bass [Carl Perkins]
                My Coloring Book [Kander- Ebb]
                Son-of-a Preacher Man [Ronnie Wilkins- John Hurley]
                Am I That Easy to Forget? [Carl R Belew- W S Stevenson]
                Little Arrows [M Hazelwood- A Hammond]
                Hold Me Tight [Johnny Nash]
                Angel of the Morning [Chip Taylor]
                I Forgot More Than You'll Ever Know [Cecil Allen Null]
         

---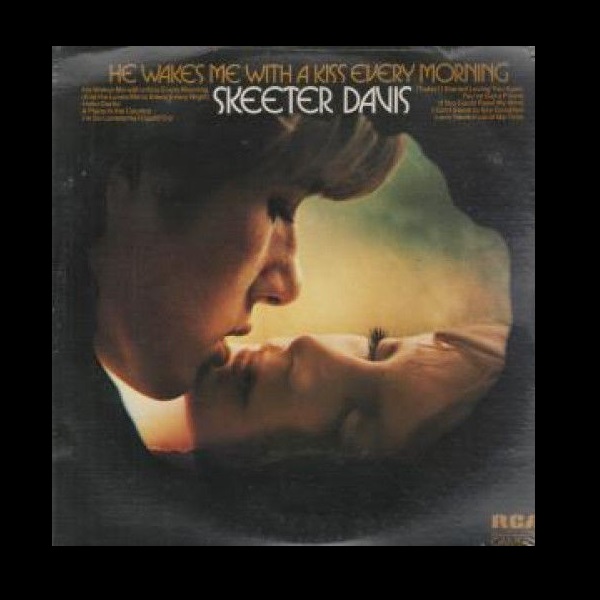 The End of the World

	released 1974    

      	songs:	He Wakes Me With a Kiss Every Morning
		Hello Darlin'
		A Place in the Country
		I'm So Lonesome I Could Cry
		Today I Started Loving You Again
		You've Got a Friend
		If You Could Read My Mind
		I Can't Seem to Say Goodbye
		Love Takes a Lot of My Time


---
Skeeter Davis Homepage