SKEETER DAVIS
MY HEART'S IN THE COUNTRY
Produced by Felton Jarvis
"The Country Is Mine... and I Love It"
One statement fits me perfectly - "You can take the girl out of the country. But you can't take the country out of the girl."
The Lord has blessed me with success. My singing career has taken me from the Kentucky farm where I was raised to the Grand Ole Opry, Carnegie Hall, and even to the faraway stages of Japan.
Of course, I'm thrilled that many of my records have been pop, as well as country, hits. Who wouldn't be? But my roots remain in the country.
City folks ask me- "What's the country like?" And I could talk forever, because it's a question I love to answer: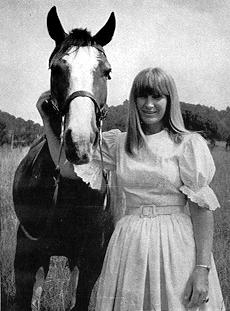 It's a place that smells of hay, and corn, and juicy tomatoes grown in your own backyard. Where you hear tractors during the day, crickets and frogs at night, and roosters in the morn­ing. Where you see the sun rise above the mist and feel the dew slippery under your feet, and see the sun set beneath the clouds at night. Where you taste the best cooking in the world and drink the sweetest water.
Where you can kick off your shoes, and nobody will say anything 'cause their shoes are off too.
It's a patch of green in a meadow of brown with shady trees and a white fence that always needs a new coat of paint, and a wooden house with a chimney seeping a wisp of wood smoke, and a front porch with a hammock and swing, where the iced tea and lemonade make a hot day cooler.
It's where a horse eats sugar from your hand, and tries to toss you when you ride him. Where the cows moo if you don't milk them- then look at you, funny-like, when you do. Where a little water in a muddy hole gives the kids an excuse for swimming.
It's a rose thorn in the thumb of a child; a dash of iodine on the cut; a big band-aid for the little wound; a tear wiped away, and a kiss to make it well.
It's a place where you worry if it rains too much- or not enough. If it's too hot- or too cold. If you have a Blackberry Winter or Indian Summer.
Where trees are reddened by blossoms in the spring, apples in the summer, and leaves in the fall. Where you forget to chop firewood until the first snowfall. And when you finally get a roaring fire going, it's almost time for bed. Where Christ­mas means cutting down your own tree, mixing eggnog, and finding your mailbox crammed with cards placed there by a postman who couldn't keep from smiling.
It's a place where you can still see a one-room school, a windmill near a pond, wagon wheels, a log cabin, and an old house that everyone swears is haunted.
Where you loved your mother who smelled like sweet powder, and your father who smelled like tobacco. And they were smells you'd like to smell again, but can't.
Where all the people still find time for church Sunday morning.
I've been to cities where neon lights are bright as day and many doors lead to cheap pleasures, but my heart stayed in the country.
My career has taken me from the country, but nothing can take the country from me.
And one day I'll trade my name on a big city marquee for my name on a rural mailbox.
Because the country is mine...
and I love it.



SKEETER DAVIS