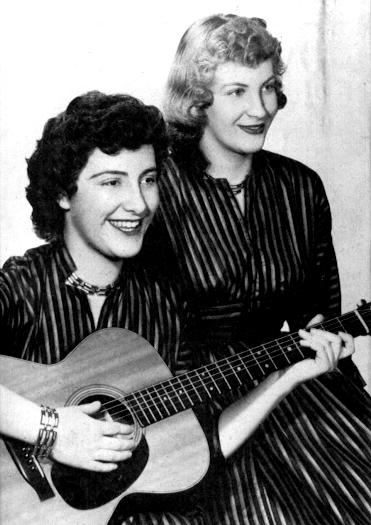 Of the many lesser-known recording artists who passed across the country music scene in the 1950's, there are few whose musical influence has come to be woven so subtlely and endur­ingly into the tapestry of modern country music as have The Davis Sisters. Their career began with their inauspicious debut recording sessions in Detroit (in either late 1952 or early 1953- the exact date has never been established) and ended with a tragic car accident a year later.
Yet even today, The Davis Sisters' reso­lute, effervescent duet sound echoes fondly down through the years. In the 40 years since founding member Betty Jack ("B.J. ") Davis' untimely death, the duo's songs have influenced several generations of musicians who followed them- every­one from The Everly Brothers to pedal steel guitar innovator Bud Isaacs to rock icon Bob Dylan, who once recorded his own version of "I Forgot More Than You'll Ever Know," the Davis Sisters' only Num­ber One hit.
"Our singing style was never something we practiced or sat down and figured out," recalls founding member Skeeter Davis, who was not really a blood sister to her duet partner, Betty Jack Davis. "The vocal arrangements that we came up with were always completely spontaneous; it just came out when Betty Jack and I sung to­gether. I only remember one song that we ever had a problem with, that we just couldn't sing naturally."
The two founding members came to­gether casually in the late 1940's when they were both attending Dixie Heights High School near Covington, Kentucky. "My father was a farmer and electrician, and we lived way out in the country," re­calls Skeeter, who was born in Dry Ridge, Kentucky, in 1931, and who has since gone on to solo fame as a recording artist and longtime member of the Grand Ole Opry. "Then he got a job in Cincinnati, so we moved near Covington, which is right across the Ohio river from Cincinnati. I was in my junior year, and I didn't know anybody at school, but one day I was in Home Economics class, and the teacher had left, and this girl started singing 'I'll Hold You in My Heart,' an Eddy Arnold song. I knew the song, and I just joined in. Later she introduced herself as Betty Jack Davis. We liked each other instantly."
Betty Jack, for her part, was born in Corbin, Kentucky, in 1932, and had been intensely interested in music for all her young life. "Pretty soon," adds Skeeter, "we were singing together every day at lunch. Then we started spending the night together at each other's houses and got to be just like real sisters. I even moved in with the Davis family for a while. Betty Jack used to say to me, 'Skeeter, I never heard anything like you! God sent you to me, because he knew I wouldn't do it by myself.'" The girls sang locally at Renfro Valley and in Corbin, Skeeter singing har­monies to B.J.'s robust lead. In 1949 they tried the Opry. "They wouldn't let us on, but we did get backstage," recalls Skeeter, who has since become one of the most familiar and enduring faces in the Opry's regular lineup. "I still remember standing back there, and Betty Jack looking at me and saying, 'Someday we're gonna be out there.'"
Appearances by the girls in local ama­teur contests led to a steady job on a noon-­time TV variety show on Cincinnati's WCPO-TV. Davis and Penick would drive over to the show during their school lunch hour; they received $14.28 a week for their efforts. The emcee of the show was in a hurry to introduce them one day and found himself unable to pronounce Penick's last name. So he dubbed them The Davis Sisters, and the name stuck.
The local TV exposure quickly led to other opportunities. The newly dubbed Davis Sisters soon became regular per­formers on WLEX in Lexington, often fea­tured on a live radio broadcast from Jimmie Skinner's record store in Cincinnati, called The Mid-Morning Jamboree.
Once they graduated from Dixie Heights High, Davis and Penick quickly landed a spot on The Big Barn Dance Frolic, a country music show on WJR, a powerful 50,000-watt "clear channel" AM radio station out of Detroit. They spent most of 1952 in Detroit, and made their first record­ings there, among them a rousing version of Hank Williams' "Kaw Liga" and an early version of their own "Sorrow and Pain."
In early 1953, armed with the demos they'd recorded in Detroit, they flew to New York City in hopes of landing an au­dition with famed RCA Victor A&R execu­tive Steve Sholes. "We didn't have an ap­pointment or anything- we didn't know about any of that stuff," Skeeter recalls. They didn't meet Sholes but did manage an audition with Eddie Kissak, at Decca Records. Kissak (who later went to work for RCA Victor) got the girls an audition with Sholes in Nashville later that year.
During the next three months, events unfolded with dizzying speed. "I Forgot More Than You'll Ever Know" was re­leased as a single by RCA and quickly went to the top of the national charts. Penick and Davis were booked for appear­ances at major country music venues, in­cluding a series of appearances in August with Eddy Arnold on Perry Como's popu­lar TV variety show. The Grand Ole Opry was about to hire them for its Prince Albert Show, and they were set for a series of fall appearances with the Opry's cast.
It was very early August, and The Davis Sisters had just made their first appearance on WWVA's Wheeling Jamboree in Wheel­ing, West Virginia, when fate took a dras­tic turn. "We were driving back, and I looked at the map and said, 'We're almost home. We've just got a few more miles to go,'" Skeeter adds. "And that's all I remem­ber. I don't even remember anything about the accident. But when I finally did wake up in the hospital, Betty Jack was gone. And the whole world was changed."
The crash occurred just outside Cincin­nati when a soldier on leave fell asleep at the wheel of his car and crashed, head on, into their automobile. Betty Jack was killed instantly. Skeeter suffered a concussion and various internal injuries.
A few days later, on August 6, 1953, Betty Jack was laid to rest in Highland Cemetery. At the urging of Betty Jack's family, Skeeter recorded with Georgie Davis, Betty Jack's older sister, for awhile. These two created a fine harmony sound, but the vital chemistry- the magical spon­taneity and innocence- that had existed between Betty Jack and Skeeter- was no longer there. After their last RCA Victor ses­sions in 1957, Georgie returned to Cov­ington, Kentucky, where she still resides today, and Skeeter- two years later- ­joined the Grand Ole Opry as a solo artist.