But Skeeter grew up poor as dirt, and she never forgot it.
Now, as she battles bone cancer, she's taken one memory of those years of poverty and turned it into a Christmas gift to share with the world.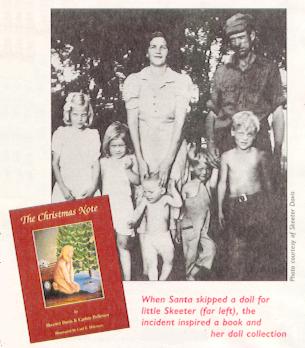 Early last year, Skeeter told a friend, author Cathie Pelletier, about an incident in her childhood in Dry Ridge, Ky. "I wanted a doll for Christmas. Instead, I got a note from Santa Claus saying he had run out of dolls before he got to Kentucky," recalls Skeeter.
Cathie couldn't forget the story. So last Christmas, when Skeeter was having a hard time with her cancer, Cathie sent her a manuscript inspired by the doll story. The accompanying note read, "Skeet, this is a Christmas surprise. I hope it makes you feel better."
"It did," says Skeeter with a smile. "It was touching and really sweet. I saved it, looked at it often, kept the manuscript under the pil­low. I never had it far from me."
And she thought again about those hard days so long ago, and the enormous gift that note from Santa represented.
The Christmas she was 10, Skeeter desperately wanted a doll, something she had never had. But a combination of a poor farming season and a big family - grandparents, parents, aunts, uncles and six children living in one cabin - put it out of reach.
Come Christmas morning, there was a note from Santa Claus instead of a beautiful new doll. It was a big blow to such a little girl.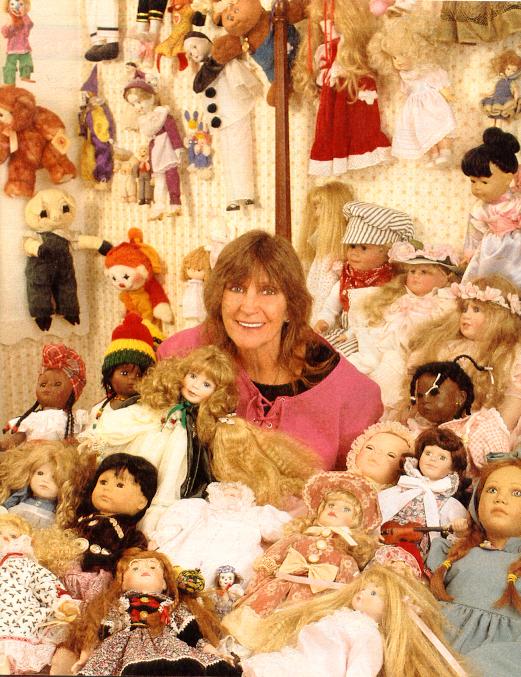 "I was thinking I would get my first and last doll that year," recalls Skeeter. "I was getting old enough that I wouldn't get any more toys or dolls. And I believed in Santa Claus so strong - I still do, mind you."
Skeeter's brothers and sisters thought getting a note from Santa was a big deal. Skeeter, however, was desolate. But when her daddy asked, "You understand, don't you, Skeet?" she put on a brave face.
"I was saying, 'Yeah, I got a note from Santa Claus. Yeah, he really likes me.' My mouth was saying that, but inside I was thinking, 'How could the last doll be gone before it got to me when it was going to be my only doll?' "
As soon as she could, Skeeter ran coatless through the cold to the safety of the barn. There, she curled up in the hay and cried like the child she was. When she finally looked up, she was sur­rounded by a menagerie - her dog, three cats, a cow, a goat, pigs, two horses and all the chickens and roosters. They had formed a circle around the weeping child.
"I cried with all the animals," says Skeeter. "I cried because I didn't under­stand - and that's when it came to me. I was lying on the hay, and I realized that Jesus didn't come as a king in a robe with gold and diamonds and jewelry. Instead, he came as a babe in swaddling clothes. It came like that to me - it came as a story of faith. That belief and faith is what got me all the dolls that I have now."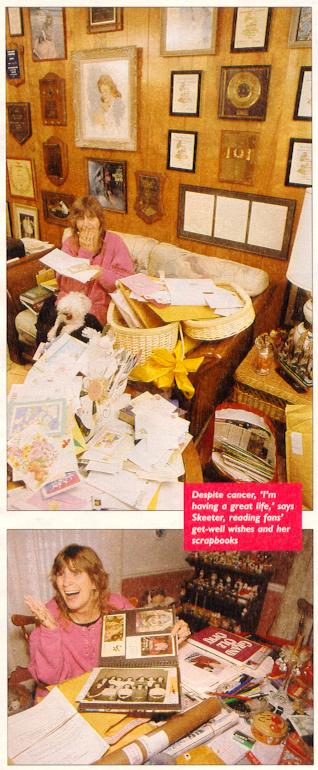 For Skeeter did get that Christmas doll - the following year, when she was 11. Later, she began collecting them, and now hundreds of dolls in every size, shape and color fill her Nashville-­area home.
When Pelletier suggested they transform the touching story into a book, Skeeter took a deep breath and gave the go-ahead.
Now, The Christmas Note is a reality that can be shared with others.
"It's one of the highlights of my life," marvels Skeeter. "It's a reality now. This is a great little book, and I'm touched and flattered. For this to happen at this point in my life, I feel it's designed by God, I really do. It's funny how two people who didn't know each other - her from Maine and me a Kentucky girl - connected."
Pelletier has established Nashville Books, and The Christmas Note - with 20 illustrations by Carl E. Hileman - is the compa­ny's first release.
Skeeter knows from her own experience that there will always be children in similar circumstances who won't get what they hope for at Christmas.
"I would tell them not to lose faith, and to believe," she says, her voice as sure as a preacher's. "Believe in themselves and how special they are. If it didn't happen today, still believe and look for it, whether it's a doll or what they want to be one day.
"I received something more important than a doll that day - I learned to believe in myself. Keep the hope and faith that something good will happen, and remember what Christmas is about. It's not about presents, it's about whose birthday we celebrate. God created these children, and they're special. It doesn't take a present to confirm that."
As she struggles with her cancer, Skeeter tells COUNTRY WEEKLY that the book has raised her from the valleys to the peaks.
"People have said, 'Skeeter, we're going through this journey with you, we're praying for you.' The illness cost me my marriage, so I'm divorced - not quite a year yet - and for this book to come along now is a godsend."
The book's illustrations have brought back memories of innocent faith. But the disease, divorce and varying med­ical reports often tested Skeeter's faith.
"I was crying out. My marriage was broken, I was fighting the disease and going in for tests and I prayed, 'Lord, restore and renew mv faith to the same faith I had when I was that little 10-year-old girl crying in that barn - the little girl in this drawing. God bless this book and God bless this girl and God let me have that faith again."
Skeeter's prayers were answered.
"I had just gotten the cover for the book, and it was like God spoke to my heart. I had that little girl's faith again. God only knows what's going to happen with this disease, because I've been praying and there are so many people praying for me. I didn't get a good report when I went to the doctor yesterday, but I said, 'God, I believe your report.' "
Skeeter has a message for COUNTRY WEEKLY readers. "Thanks for the love," she says. "I've saved every card. I've got boxes of them because I want to write everybody when I'm well. Your cards and letters have given me hope and made me feel loved at a time when I felt so unloved. My doctor said it's been amazing that, even taking the chemo, I've been able to go out and sing. I know that's because of the fans and the love I feel from them and my family and friends. I want to say thank you, from the bottom of my heart."
Skeeter, 65, approaches the future with confidence. "I think on things that are lovely, things that are true, things that are pure," she says gently. "This book was not an accident. I called the Ernest Tubb Record Shop today and said, 'I don't care what the doctor says, I'm coming out there to sign books!'
"I catch myself saying, 'I've really had a great life.' Well, I'm having a great life, and I'm looking forward to this book and to what's ahead."


---
To order
The Christmas Note
, call Nashville Books at 888-689-3766. You can write Skeeter Davis at P.O. Box 1288, Brentwood, TN 37024-1288.