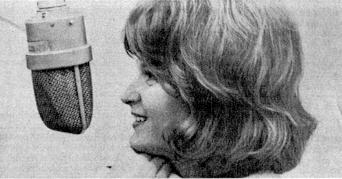 From her older publicity photos the Skeeter Davis you'd expect to see is a sweet, fluffy-haired blonde in classic clothes. What a surprise to meet Skeeter as she looks now: sophisticated new hair-do, bright and unconventional clothes, and the feeling "I just got out of jail." Add to it the fact that I met her the day she was to appear at Carnegie Hall,and you've got a pretty spirited girl on your hands!
"I'm concentrating on my career now,"' she tells me, backstage at, Carnegie Hall, "I have a new record - 'If I Had Wheels' - and in June I'll have a new album out, 'Singing in the Summer Sun.' I love touring - right now I'm with Eddy Arnold - and I love everything connected with show business."
Skeeter - as almost every country fan knows - has had a life filled with sadness and tragedy. She started out in a duet, The Davis Sisters. In 1953 their record, "I Forgot More Than You'll Ever Know About Him" was #9 on the charts. They were driving from Wheeling, West Virginia home to Kentucky where they lived. There was a crash; B.J. was killed and Skeeter was in critical condition. For a while, she continued singing with B.J.'s sister, then she stopped. RCA asked her to stay on, singing either solo or with someone.
"But between 1956 and '59 I started singing again, joined the Grand Ole Opry. Had a country hit, 'Set Him Free.' In '63 I had the answer to 'Please Help Me, I'm Falling.' It was called, 'I Can't Help You, I'm Falling Too.' and it was #1 country, #24 pop. I helped write it. Then there was, 'My Last Date With You.' I wrote the words, Floyd Cramer wrote the music.
"Then, in 1963, I had 'The End Of The World.' It was #1 in both pop and country ­ and a lot of foreign countries. I got a gold record for it.
"That's like a dream I can't believe yet. Since then, I've had some pretty good ones - and some pretty bad ones." She singled out "I Can't Stay Mad At You" as one of the better ones, written by New Yorker Carole King.
"The person who's been most helpful to my career is Chet Atkins - he's produced all my records. Steve Sholes first signed us to RCA... Ernest Tubb was the first I toured with... Ott Devine signed me to the Grand Ole Opry... Felton Jarvis produced my new record - they all helped!"
How did Skeeter feel when she first heard her records on the radio?
"Oh, mercy! I was thrilled - in fact, I'm still thrilled. If I'm going somewhere in my car, and my voice comes on, and I get where I'm going, I just sit right there in the car and listen till it's over, I'm so thrilled.
"At home - I live in one of Eddy Arnold's little developments near Nashville - I have one whole room filled with memos from fans. Last night in Branson, Missouri, they gave me a little carving of a granny doll, it's so cute ... !"
We went downstairs, where Eddy Arnold was dancing around onstage, in great high spirits to be appearing at Carnegie Hall that night. After Skeeter rehearsed, we walked back to her hotel room. The moment she stepped inside the door, she lighted some incense, which she loves. She looked over all her pretty dresses, fretted about whether to wear shoes or evening boots, and chatted about her home and her career.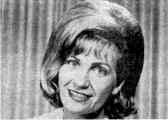 "I have five dogs: a collie named Guard, my Pekingese, Sonny and Cher, and Tinker and Taffy. I have a pet dove, too ­ found her all frozen, but now she sings all the time. My housekeeper, Mrs. Pete...
"I have a 229 acre farm, where my brother and his family live. I have a new Arabian colt there, but I was making a movie - 'Country Boy' - and I didn't even have a chance to see my colt.
"You know, I have this funny name, Skeeter - my grandfather named me that ­ and sometimes people think 'Skeeter' is a boy. It can get embarrasing. The biggest mix-up was in a little town where there were more of us than they could fit into the hotel. So the hotel clerk decided to double some of us up. We had this singer, Dee Clark. He's a man. The hotel clerk said, 'We're going to have to put Skeeter Davis in with Dee Clark.' We said, Skeeter Davis is a girl! And he said, 'Isn't Dee Clark a girl?'"
Skeeter picks a dress out. I tell her I'm looking forward to seeing the show tonight.
"I'm getting a little nervous," Skeeter admits. "Last night I was in a park in Branson, Missouri, and tonight I'm at Carnegie Hall."
But that night she looks great and sounds great - and everyone loves her. She's tough, that Skeeter - her private life could have gotten her down, but she didn't let it. Now it's about time things really started looking up for Skeeter Davis!