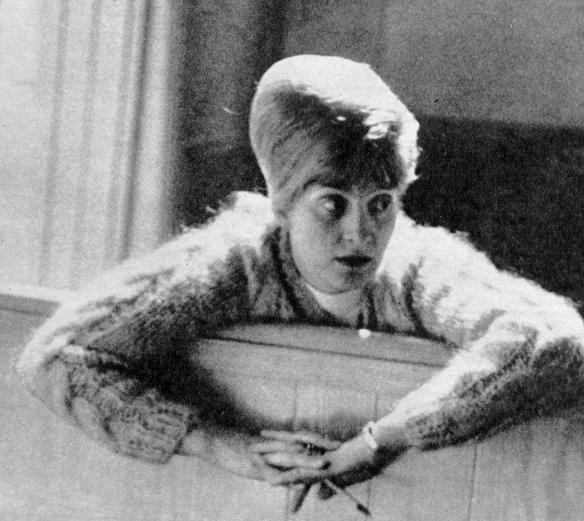 In her 15th year of recording, Skeeter Davis came up with her biggest smash- "End of the World." But the sweetness of success had its bitter taste too: Her marriage to handsome disk jockey and recording artist Ralph Emery began to fall apart.
Fortunately, neither Skeeter nor Ralph are willing to give up without a fight. They've been talking with their minister, continuing to go to church together, and are keeping the lines of communication open between them.
"We're having our troubles," Skeeter admits, "but we're trying for a complete reconciliation."
They married in October of 1960, and live in a beautiful, modern, 2-story, colonial-style home (pic­tured below) in the Brentwood section of Nashville. The decor is early American, but the bedroom is called The Confederate Room, because Ralph is "a nut on the Civil War" and the room is a storehouse of Con­federate maps, documents and money.
Having children would have made their home even more wonderful, Skeeter admits. "We have tried to have a family ... I'd like to have children."
Neither Skeeter nor Ralph are eager to talk about marital difficulties, but certain aspects are quite ap­parent. They are faced with the age-old problem of a wife devoting too much time to her career.
Skeeter, born Mary Frances Penick on a farm near Dry Ridge, Ky., is the first of seven children in a loving family. She got into music when she was a high school junior as half of The Davis Sisters act, and in 1953 the girls' RCA Victor recording of "I Forgot More Than You'll Ever Know" made number one on the charts.
She dropped out when her partner, Betty Jack Davis, was killed in an auto accident, but after a while, her friends persuaded her to resume her career. She climbed slowly.
She says now, "When I was starting in the country music field, I did not have what to eat sometimes. But I've never done anything I'm ashamed of."
Today, she could make a fortune by playing night clubs, but she won't. "I won't work where liquor is sold. I don't drink myself, and if others wish to drink, I feel that is their business. I just don't want to be the one to draw someone into a situation where they would drink."
A devout churchgoer, she explains, "I've always said that if the end of the world came and if the Lord arrived, I would never be found in any place I'm ashamed of. When I say 'No' to offers from Las Vegas, I feel I am witness to people."
Because she has struggled so hard for her current success, she finds it very difficult to start diminishing her career and becoming more of a full-time wife. "Ralph wanted me to stay off the road," she admits. "but I can't. I love to meet new people."
She sighs and her green eyes grow worrisome when she explains, "It's not easy when a woman is on the road and her husband is doing an all-night radio show - and each has a career that's going strong . . . and neither wants to give it up."
Her husband has an all-night radio show in Nash­ville, plus an early-morning TV show. He emcees part of the "Grand Ole Opry" radio show, and will emcee a new taped radio show to be syndicated. He has also signed to record for Mercury.
"We even compete on records," says Skeeter, sor­rowfully. "I'm on RCA Victor, and he's on Mercury."
Perhaps she's been working too hard, perhaps her marriage problems are too vexing. but Skeeter suf­fered an abdominal attack. First, the doctors thought it was appendicitis, then they thought it was a nervous stomach. "Maybe it's nerves," she says. "I have to go back to the hospital for further checkups."
It's not easy for a girl to compete in a field that's dominated by men, and the wear and tear shows on Skeeter. "It's tough for a girl," she says, and her hus­band comments, "There's as much competition here in Nashville, and as much politics here as there is in Washington, D. C. This is a very competitive city. And you starve if you don't hustle. That's why everybody in the country music field works so hard."
Skeeter says, "This is the biggest year for me. It is the answer to all my dreams. Before I even met Ralph, I never even hoped for the number one hit record. I never thought it was possible. I admit I had hoped to make number one on the country charts. But then 'End of the World' became number one on the pop charts too. . . ."
She sighs, "I just can't believe this has happened to me! Like I told Ralph, 'It's just like graduation - ­I've got something on my own!"'
There are such nice by-products to being successful and having money. "I bought my daddy a house, and he was so thrilled, he sat down and cried." Dad is finishing up a job in Marion, Ind., and then he'll move into the new house in Nashville. Meanwhile, Skeeter's mother and her two kid sisters - Caroline Sue and Leona Ann - are already in Nashville. There are still a brother and sister in Kentucky, and a brother, Merle, in the Army, stationed at Ft. Lee, Va. "He's six-foot-­two, blond and handsome," says Skeeter. "He's studying guitar and would like to be a singer. He's the only other one in the family who wants to be in show business."
Skeeter is helping her family. She's proud of her husband Ralph. And she's thrilled about her own career. Yet the seeds of discontent are within her, and she keeps brooding about her life and her future.
"My trouble is that I try to run away from problems," she confesses in a rare moment of self-revelation. "Maybe that's my fault."
Then she sighs, "Look at Steve Law­rence and Edye Gorme. They can work single, and then they can work double. But when there's competition between man and wife . . ." And her voice trails off, not finishing the thought.
She recalls, perhaps bitterly, "I was singing when I was in high school and I was too busy to learn cooking and home stuff. I flunked in home econom­ics. To this day, I don't know how to cook.
Her husband interrupted, "Yes... you can cook!"
She went on, "Wives should be home and be thrilled when the husbands come home." A pause, then, "Maybe I'm selfish in wanting a career. I don't think I can be a real wife......
She talks about her church and her minister, and says, "Sunday, the minis­ter said, 'We are so concerned with ourselves, with the big "I," and it al­most always gets in the way.' It makes you think."
And Skeeter is thinking hard. . . . Somehow, she must find the answer.