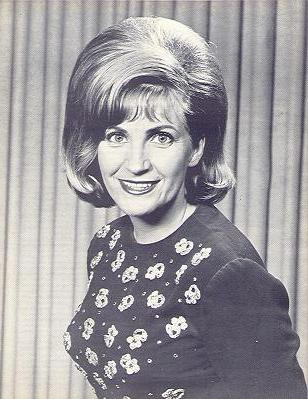 Skeeter Davis has conquered a challenge to the show business world: to become a top star, remain at that peak and maintain a flow of top selling records year after year!
Hit releases, many awards, a permanent home with the WSM Grand Ole Opry, national television offers - all of these perky Skeeter has. But her greatest possession, with all this Cinderella glory, is a personality that remains untoucbed by stardom.
Blonde, green-eyed, 5' 4 Skeeter Davis was born in Dry Ridge, Kentucky, and lucky to have three sisters and an equal number of brothers. The giving and sharing atmosphere, so necessary with a large family; lent its share to her selflessness. When she is chatting away, a million miles an hour, she has the sweet innocence of a child spending memorable happy hours with her family. Yet professionally she has the mature sense and appearance of a polished entertainer, a worthy attraction for any kind of show, either country or uptown.
For some time Skeeter has been recording on the RCA Victor labeL She shares the spotlight with Chet Atkins, Eddy Arnold, The Browns, Lorene Mann, Willie Nelson, Elvis Presley, and many others.
Many of her hit records have travelled the difficult road to the top of the nation's charts, both "pop" and country. When she recorded "The End Of The World" and "I'm Falling Too," the first indication of her moving up into the "big time" was a phone call from Houston, Texas. A distributor excitedly announced that he had sold 10,000 copies of "The End Of The World" in the first four weeks. Then the disc really exploded, and she was a full fledged star.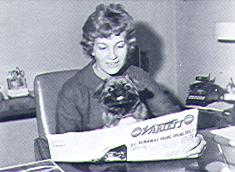 She was finally established and still remains there.
A few years back, Skeeter had attained recognition as one of the Davis Sisters, with the hit, "I Forgot More Than You'll Ever Know," penned by Cecil Null. Following the death of a member of the group, Betty Jack, she branched out on her own with .the successful courtroom tear-jerker, "Set Him Free." This song, along with others, have proved another attribute of Skeeter Davis-that of being a _songwriter. She wrote all or part of the following: "I'm Falling Too,' "My Last Date," "Homebreaker," and "Somepne I'd Like To Forget."
A short time back, when the boy-girl duet trends broke big in Country Music, Skeeter joined in with an RCA album with Porter Wagoner and later a record with Bobby Bare.
Skeeter's multi-field sales appeal stems from one basic quality; she delivers the soulful haunting strains which the country fans crave, with a voice that is youthful. . . a sound that is so popular with the teenage fans of today.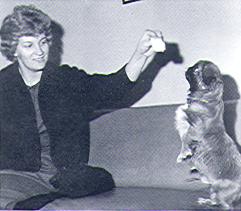 There has been some controversy concerning the modern country sound, with drums and occasionally horns, but this is a necessary and commendable thing with the changing world and exploding growth of Country Music, accelerated by the powerful medium of television. With literally millions of new fans, variety is a prime necessity, and our use of this variety brands us with intelligence.
Concerning this, Skeeter states: "I always worry about my country fans, thinking I am not loyal. But I find when I do the big shows with Connie Francis, The Beach Boys, Rolling Stones and Johnny Tillotson with crowds around 10,000 there sit my same faithful country fans in the first four rows. In other words, they were the first to buy tickets. So I think it is a very small minority who object to the modern country sound."
Skeeter has a wealth of. stage experience, having been a real trouper since 1949 on shows over WLAX, Lexington, Ky. and WJR, Detroit. Her poise strengthened with regular stints on WCOP and WKRC TV in Cincinnati, and later on WWVA Jamboree in Wheeling. She and Betty were recording in 1953, then in 1959 Skeeter was signed to the Grand Ole Opry. This was on August 1st and she was so touched by it that she asked if she could keep the pen. In 1960 she had two songs on the top 20 "pop" charts, "I'm Falling Too" plus "My Last Date." This was really something for a country star in those days.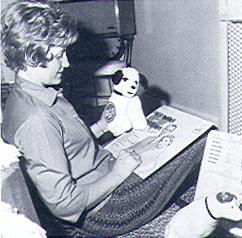 This bouncy girl has appeared on many of the national shows such as Dick Clark, Steve Allen, Jimmy Dean, and appeared in the full length movie, "Forty Acre Feud," which was produced by Hollywood's Ron Ormand, producer of over 60 movies. (Ron is now settled in Nashville to do continuous picture work, which you can be assured will be in par excellence style.
Today Skeeter Davis is happy living in her spacious home in suburban Brentwood, on the outskirts of Nashville. She most dearly loves animals, both live and stuffed toys. Her room is full of these keepsakes that her fans have sent her. Her Pekingese "Tinker II" is precious to her and she even takes him on plane trips for some of her tours. He was given to her by Red Foley and Si Simon when she appeared on the Ozark Jubilee as a guest. She was so sad over the death of Tinker 1 that they went out and purchased this little dog. Charlie, her chameleon, is always changing colors. For three years she has had a pet dove, Dodie, which she found wounded on the highway. The newest to her collection of .live pets are miniature twin poodles, Sonny and Cher.
Skeeter is loved by all who come in contact with her. So professional and polished on the stage, she is charming, down to earth, and friendly to all. This inherent quality is admired with respect.
You can always look to Skeeter to be perfect in her appearance. Her costumes are always decorative; in the summer they are cotton or brocade country style, with a full, feminine skirt; in winter she prefers velvet fabric, with rhinestones, pearls and a full skirt hemmed with fur or white feathers. Her dressmaker has a nimble hand and weaves magic into her creations.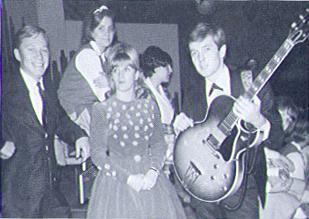 As a regular part of her act, both in Nashville and on the road, Skeeter has Ronnie Light and Paul Charon playing guitar and drums. Occasionally she uses Larry Light and Dave Lee, who play excellent electric piano and bass. So far, Skeeter just calls the group "Skeeter and her two friends" - she is looking for a title! Recently the boys have worked with Skeeter the Nashville Christmas Village, Friday syndicated National Life Opry show, syndicated Bobby Lord show, the Eddy Arnold Concert in Atlanta, etc.
"Pete," the housekeeper, fixes some delicious steaks and chili for the boys when they go out to Skeeter's to rehearse.
They rave about the kindness that Skeeter extends to them, along with her consideration and respect. All in all, Skeeter Davis is a wonderful girl who has the warmth and ability to stay on top for years and years to come.