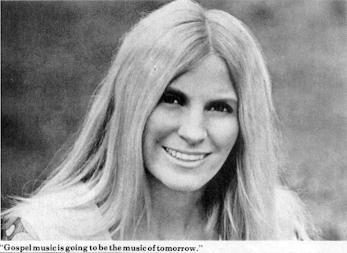 Skeeter Davis has been one of the country music community's most outspoken Christians. So outspoken, in fact, that her comments in defense of a group of long-haired Jesus people who had been arrested in Nashville for their evangelical zeal, resulted in her suspension from the Grand Ole Opry in 1973. For this special issue devoted to gospel music, we asked Skeeter to write an epistle stating her views on the subject of gospel music and Christianity. Among other things, she reveals her intention to record a gospel album in the near future.

This is just a personal observation of mine, but I would like to share it with you. Yesterday, or the past for me, would be the year 1950. I had just accepted the Lord as my Saviour so I was starting a new year in the Lord. I went to a gospel singing. I just naturally thought that every gospel singer was a Christian and that each one must surely feel that they were really answering a call from the Lord singing His praises, even though it was a business or their "career." Everytime I'd go to a gospel sing I'd usually have a chance to talk with the group. I usually sang at all the songfests in Kentucky and Ohio close to my home. I was singing with a girl who was my sister in Christ. We were really seeking the Lord for His answer as to what we should do with our talent since we loved gospel music and also country music. It seemed the way was made for us to be on a local television country music show. As Christians we made a stand against alcohol and we would not sing on any of the programs that were sponsored by alcohol. Since we made such a stand, people would always say, "Why don't you get into gospel music?" We would pray about it but, even though our friends and our neighbors told us we should get out of country music, God never told us to. It seemed God used our popularity to draw crowds to church and to gospel sings and also allowed us to always sing praises to the Lord and share our testimony. We met lots of people that still mean so much to me today. We sang with the Blackwood Brothers, The Chuckwagon Gang, The Speer Family and many others and we were really thrilled when we knew they were all really Christians and it was not just an "entertaining business." It saddens my heart to say this, but many times I saw more sin going on backstage at a gospel program than I'd ever seen with the country music entertainers. It was disillusioning to a young Christian who was being told by church members to get out of country music and get into gospel music.
Now I've been personal, but like I said, being one who loves the Lord and really gets involved in my beliefs, I couldn't help but get me into this article. I wanted to record a gospel album for RCA and have only had one in twenty-one years with the label. I hope this year I can record more. Now, I want you to know this is not my wish because of the commercial appeal, but because it's like I said, we've got to stand up and be counted! I want the Christians to know that I'm in their family! God has given me so much success in the country music field and He has allowed me to sing my music all over the world. Last year I made a real stand for Jesus. I was suspended from the Grand Ole Opry for making a comment regarding some Christians being arrested and I sang "Amazing Grace" instead of the hit song I had at the time. Now, this makes me see the importance of gospel music for the future. After my suspension I went to Africa, Sweden and Norway, where I was the number one female country singer. Thousands of people came because of my popularity. I sang my country hits and the gospel songs. It was sponsored by the Full Gospel Businessmen's Association. People were not just entertained, but inspired! I think gospel music will be bigger and bigger tomorrow because all the other music has gone so far, dealing in messages of drinking and sex, that I believe the world is now looking for the truth.
The truth can only be found in the gospel. Gospel music is going to be the music of tomorrow, for "Ye shall know the truth, and the truth shall make ye free." Jesus loves you and I love you.
Because of Him,
Skeeter Davis