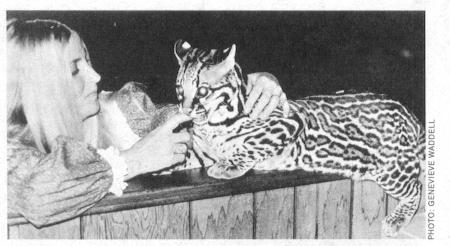 Most everyone knows that Skeeter Davis has a wildcat named Fred, 12 dogs, two Siamese cats and a white dove in a gilded cage. Her best friends also know that she oil paints and writes poetry.
"Well, I don't know if it's much in the way of poetry or not," Skeeter says. "Mostly, it's just what I'm thinking. I write the way I talk- non-stop, so I have filled several books with my thoughts. I have to fly in my business, but I'd much rather move through life at a slower pace so I won't miss anything around me."
Skeeter doesn't mind if the world reads her works after she's gone. Meanwhile, she's filling her attic with them. And with pictures, too.
Already a slide addict, Skeeter has turned to oil painting, though she is still too shy to show them publicly. Done in a style reminiscent of grade school days, the portraits of friends and of herself express Skeeter's faith in Christ, her love of country music and country life.
"I did a picture of George Hamilton IV and myself singing together in Western outfits, but I can't get up enough nerve to give it to him," Skeeter admits. Yet this is the same girl who has spent most of this year speaking out to preserve the historic Ryman Auditorium. "The Grand Ole Opry House really is our Mother Church, she says. "I'm hoping I can persuade other entertainers to express their opinions to Mr. Wendell and others involved in the Opry. And fans should voice their thoughts, too. And the wonderful thing about Mr. Wendell is, I know he'll listen to us. I've already discussed the future of the building with him several times."
Skeeter's shaggy blonde hair and trim figure lie about her age and now a popular rock group wants her to tour with them. "As long as they're willing to take me as I am, country and all, I'm willing to work something out," Skeeter says. She has always had a hard time convincing the world she's country, having been closely identified with pop music since "I Forgot More" hit the Top 10 in the early 1950s. She went on to earn a gold record with "The End Of The World," but she has never even been tempted to turn traitor. Now pop, rock and country stations are spinning that tune again. "I'm glad RCA released it again," Skeeter says. "And I don't care who plays it, 'cause I know I'm country. I can look at my bare feet and tell that!"
There's a great deal of that "bare­footed girl" in Skeeter's newest single, "I Can't Believe That It's All Over." The mournful sound of the mountains that characterizes many of Skeeter's melodies is all over this song. And a new Nashville group, "The Carol Leigh Singers," formed at Webb Pierce's request, backs Skeeter on her new record. They go well with Skeeter. This sounds like another hit for her, even though she almost passed the song by. "Ben Peters, the writer, used 'coffee' in the lyrics, and though I don't have a thing in the world against coffee, I just don't like the taste of it. Every time I'd get to that word, I'd frown." Finally, she left coffee out of the song, and concentrated on the bottle of Mountain Valley Water which she takes to her RCA sessions.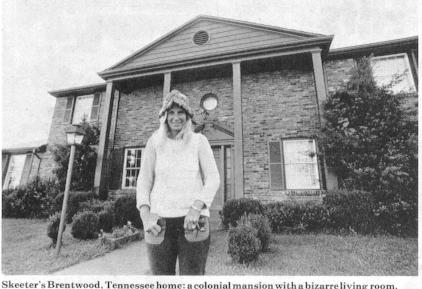 Skeeter Davis lives in a brick colonial mansion in Brentwood, Tennessee. It's a house that is distinguished by the living room. The walls of this room can best be compared to a junior high school bathroom -except all the scribbled messages are clean. "I didn't mean to turn my living room into this," Skeeter says. "It just happened. I wanted to change my furniture and I decided to haul mine up to Daddy's for a surprise when he came out of the hospital. But while I was waiting for the painters to come in, friends started writing messages on my walls. After awhile, I couldn't erase that paint! The words are a part of me now."
Skeeter's own message, scrawled in red, indicates another of her convictions: "No No no Smoking PLEASE!" She has stopped growing tobacco on her 200-acre farm because she thinks it hypocritical to knock smoking and grow the raw product. Other graffitti on Skeeter's walls include: "Give to mental health or I'll kill you," "No problem is so big and complicated it can't be run away from," and "Don't get into Jesus but let Jesus get into you."
In keeping with the decor, Skeeter has added a three-quarter mattress and springs set to the vacant room and covered the "couch" with artistic Oriental spreads. A huge harem pillow fills one corner and a seldom-touched guitar and a cherished autoharp stays in another. Red tapestries fringed with tinkling bells cover the doors and windows. A wooden telephone booth for the convenience of Skeeter and her friends stands in another comer. Naturally, the telephone numbers are scribbled on the wall.
Skeeter has been doing more songwriting and she wants to concentrate more on this in the future. The flip side of her newest release is "Try Jesus," written by Skeeter in the dressing room just before taping an Oral Roberts special. "I wrote it and sang it on his show that night. I've been wanting to share it ever since." Her own publishing company, Crestmoor, is especially anxious to give young musicians a break. Her live-in secretary, Linda Palmer, has written several songs that Skeeter hopes to record soon. "I like to encourage young people who'll write and I've already got some songs on a master tape that a teen­ager sent me, We've got to help young writers if the future is going to mean anything in country music."
Skeeter's concern for young writers is only superseded by her concern for her fans. She passed out ham and biscuits- homemade by herself- from the porch of her hillbilly cabin at Fan Fair.
"But I do have a lot to be grateful for," she says. "I'm especially glad I had the chance to thank so many of my fan club members. Last Christmas, the club gave me a cross with 18 tiny diamonds in it and I wear it all the time now. The members didn't know it, but that 18 is significant to me. That's how old I was when I became a Christian."
Many prisoners have painted pictures for Skeeter. This spring she visited Folsom Prison in Georgia to thank some of her friends in person. Later, she appeared before the Georgia Legislature and shared her views on saving the Opry House.
"Standing up there before all those important people made me realize again how far I've come from Dry Ridge," Skeeter says. "But Dry Ridge, Kentucky is still my heritage. That's why I like to go back there every chance I get. I never want to forget where I was born and raised."
The town of Dry Ridge gave Skeeter its glow-in-the-dark sign and- you guesed it- it's now on her living room wall: "Dry Ridge - Pop. 1400."