Friday, July 16, 2004
Copyright © Las Vegas Review-Journal
Her Own Woman
Linda Ronstadt isn't a big fan of Las Vegas, but she keeps coming back, just because she can
By MIKE WEATHERFORD
REVIEW-JOURNAL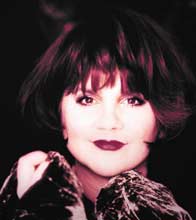 "I always feel bad about being a (casino) shill," Linda Ronstadt says of her periodic visits to Las Vegas. She nonetheless returns to the Aladdin on Saturday, this time with the Baltimore Symphony Orchestra.

Linda Ronstadt will sing at the Aladdin again Saturday, and that really amazes her.
The outspoken singer isn't a big fan of Las Vegas -- "It's such a strange, weird place" -- and previous tour stops didn't soften her attitude. She remembers "a horrible fight" backstage with "the pushiest, nastiest people" when her Mexican-themed "Canciones de Mi Padre" tour visited way back in 1988.
"My backstage is closed. I don't want people around if they're not in the show. They wanted me to take a photograph with the owner (at that time, Japanese businessman Ginji Yasuda), who was busy gambling away his family fortune," she recalls.
"I'm not a picture pony. The man got really mad because he was supposed to deliver this for the boss. I wound up having him thrown out. He got very belligerent and very rude, and we got very rude back."
Then there was her first visit, in the late 1970s. "It was owned by some mobster type, so they came in with guns under their jackets: `Woo, the little lady.' It was just so offensive. Each time, I couldn't wait to get out."
(James Tamer, the Aladdin entertainment director when the theater opened in 1976, was later added to the list of people excluded from casinos for alleged connections to the Detroit mob.)
Yet, the 58-year-old singer still manages to have a fondness for the Aladdin Theatre, which survived the original hotel's demolition in 1997. "The room itself had such beautiful acoustics. Accidentally, they somehow got it to sound almost as good as Carnegie Hall."
And so Ronstadt returns with the Baltimore Symphony Orchestra, combining her country-rock hits of the '70s with the Sinatra-era standards she recorded with veteran arranger Nelson Riddle in the early 1980s.
The first of her three standards albums, 1983's "What's New," paved the way for countless pop stars -- most recently, Rod Stewart -- to use the classic songbooks of George Gershwin and Cole Porter as an acceptable career move.
But Ronstadt remembers her management fearing commercial suicide. "They were afraid I was throwing my career away with two hands," she recalls. "I just didn't pay any attention."
The albums were big sellers, and any resistance from the older generation was countered by support from the likes of Rosemary Clooney. "Her feeling was that it was a sin to throw those songs out," Ronstadt remembers. "The fact that we just threw them all out in the '60s was an appalling waste. To rescue them from the elevators was important."
A 1980 stint in the New York Shakespeare Festival's production of "The Pirates of Penzance" turned the corner on a career that previously ran the pop gamut.
Ronstadt's 1974 breakthrough album, "Heart Like A Wheel" established her knack for giving new life to familiar, but somewhat forgotten songs: "You're No Good" (first recorded by Betty Everett) and "When Will I Be Loved" (the Everly Brothers) charted in the top five.
"I always said, `You don't have to be original. You just have to be authentic,' " she notes.
By 1980, she had voiced everything from country-rock to new wave and sold more than 17 million albums. But after "Pirates," Ronstadt stopped listening to the radio and "started studying standards, opera and Mexican music. Those three major forms of music I just internalized, and it took me about 15 years to do that."
Her past makes it easy to structure her current show as a guided tour of "the American songbook," she says. The standards in the first set give way to rock 'n' roll with a downsized band in the second half.
But fans shouldn't expect to hear every one of their old favorites. Some songs "are not who I am anymore," she explains.
"Your story changes as your life goes on. We're not one self or editions of ourselves. You can carry those (editions) over, and they add weight to the current edition, but some songs don't lend themselves that well. They really need to stay back there for that particular moment."
The singer's political profile -- including her late '70s relationship with former California governor Jerry Brown -- are a past edition that does linger. "I've been dedicating `Desperado' every night to Michael Moore, trying to get people to go see `Fahrenheit 9/11,' " she says.
"They say the country is evenly divided, and boy is that true. One half of the audience cheers and the other half boos."
"I don't understand this country sometimes and I really fear for it," she adds. "The government is making everybody in the world hate us, including the people that used to be our friends."
Anyone who disagrees with that is welcome to get in line, behind whoever she manages to rile at the Aladdin this time.
"I keep hoping that if I'm annoying enough to them, they won't hire me back," she says with a laugh.

---
---