Music: Linda Leads the Band

T i m e

September 26, 1983
---
A ravishing album of standards by a lovelorn rock'n'roll girl
The title is a bit of a tease. The most recent song on What's New is Crazy He Calls Me (1949). The earliest, What'll I Do? is a certifiable, card-carrying Irving Berlin classic, vintage 1924.

But what's old, in the case currently under consideration, is very new indeed for Linda Ronstadt, 37, whose lovelorn voice has provided rock'n'roll with some of the best ballad singing of the decade just past. Now, turning to other decades long past and currently in musical disfavor among her peers, Ronstadt has found a fresh direction. What's New, released last week by Asylum, avoids all the obvious routes. Powered by the celestial arrangements of Nelson Riddle, the album is not a sentimental journey, a dizzy camp-out or a show-biz grandstand play. It is a simple, almost reverent, rendering of nine great songs that time has not touched. At first hearing, Ronstadt's fans may be taken aback by the suave but swinging Riddle orchestra, by the playfulness and sophistication of the lyrics, by the tidal pulls of strong melody; this is the sort of music that anyone under 40 is supposed to despise. That is practically an article of rock'n'roll faith.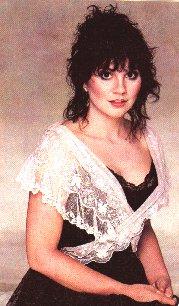 But creeds are made to be challenged, and by that measure What's New is one of the gutsiest, most unorthodox and unexpected albums of the year. "Linda deserves a lot of credit for having the courage to do such an album, to fly, in a sense, in the face of the times," says Riddle. Comments Ronstadt's longtime producer-manager, Peter Asher. "It's a bold move. I had mixed feelings about how the record would sell, but not about whether she would do it well."
Ronstadt's feelings are emphatic: "This record is the most important thing I have ever done, the best songs I have ever sung and the best singing I have ever done. I feel it's my life's work in a way. I don't know what my fans will think of it. I don't care too much. I hope they like it, but if they don't there is nothing I can do about it." Or would want to. No one in contemporary rock or pop can sound more enamored, or winsome, or heartbroken, in a love song than Linda Ronstadt. Singing the tunes on What's New, or even just talking about them, she still sounds like a woman in love: "It's like falling for a man. You can't not do it. He might be married or maybe not even like you very much and make a complete fool out of you, but you have to have him. When you fall in love you have no choice, and I literally had no choice with these songs. I was hijacked."
She had a long and sometimes bumpy ride. Her pal J.D. Souther, a pretty fair hand at writing a ballad himself (Prisoner in Disguise), liked to play Frank Sinatra's 1958 album for her, Only the Lonely. She also listened a lot to the extensive collection of vintage records owned by another friend, Author Pete Hamill. But it was not until the summer of 1980, listening one weekend to a Mildred Bailey record ("She sounds very pure and sexy at the same time- a sexy Snow White") at the home of Producer Jerry Wexler, that Ronstadt first hit on the idea of making an album entirely of standards.
Almost a year later, right after finishing her Broadway run in The Pirates of Penzance and just before starting the movie version, she and Wexler spent four days in a New York studio working on an album that Ronstadt now thinks of as "an expensive rehearsal session. The tracks weren't right, the way they were recorded wasn't right, the way I sang them wasn't right. What's New and Good-bye I couldn't sing at all. But I could sing them in the shower, so I knew there was something wrong with the arrangements." She abandoned the record ("Doing that killed me") and instead made Get Closer, a fine, smooth and entirely typical Ronstadt album that has sold under her recent platinum-record standard.
It seemed just the time for a new direction, if not for such a big risk. Asher admits feeling a lot better about the project after Riddle, the 62-year-old grand master of pop orchestration, agreed to sign on. Riddle, who speaks of Ronstadt's "strong, sure, pure tone, a naiveté and a freshness and a little-girlishness which were very appealing," had worked on several seminal Sinatra albums of the 1950s, including Only the Lonely. His work with Ronstadt may be hard for him to describe ("I don't know what kind of arrangements I wrote for Linda. It is probably as mysterious to me as it is to you. One goes on instinct"), but it does them both equal honor. Ronstadt, working from the same basic list of tunes she had attempted in 1981, wanted to "present the songs as purely as the day they were written. I wanted the pure melodies to come out."
When Riddle and Ronstadt first met in May 1982, he brought along the original sheet music he had used to arrange Guess I'll Hang My Tears Out to Dry. Casually he crossed out "Frank's key" in the corner to replace it with an annotation for Ronstadt's. "You can't do that, that's historic!" she protested, and got herself a new piece of sheet music, as well as a brand-new arrangement.
Ronstadt faced the recording process with some trepidation. Used to following a rock band, she now found herself singing, live, with a 47-piece orchestra that followed her. The experience, she reports, was "overwhelming. But musically it was also the most exhilarating I have ever had." Her friend Randy Newman, recording in a studio near by, listened in on some sessions and razzed Peter Asher about tapping his foot to the music. "There's no beat," Newman reminded him. "It's not like rock'n'roll."
Maybe not musically. But emotionally, Ronstadt's new album can bring a sweet rush of feeling that is immediate, direct and, for all its sumptuousness, almost recklessly intense. Any rocker would recognize the feeling. And, if anyone can, it is Linda Ronstadt who ought to be able to get them to hear it, too, right here.

                              - by  J a y   C o c k s .
                                Reported by  D e n i s e   W o r r e l l  /  L o s   A n g e l e s
---