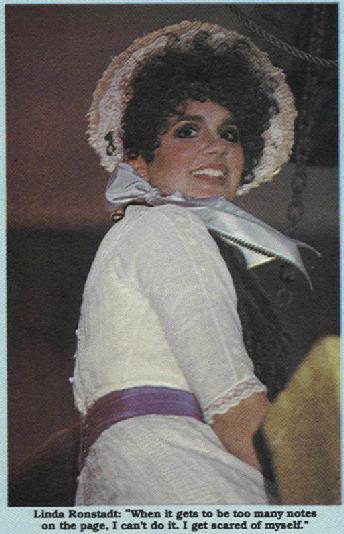 With her Broadway debut as Mabel in the Gilbert & Sullivan comic-operetta
The Pirates of Penzance
, Linda Ronstadt opened a new door in her career. But opening doors is nothing new to Ronstadt.
When she formed the Stone Poneys in 1964, her aspirations seemed to be those just another female country singer. However, when Different Drum became a hit, the petite songstress gained the confidence to go out on her own. By 1971, one year after her Grammy nomination (for Long, Long Time from her 1970 Silk Purse album), Ronstadt made another career change. Joining the talents of incipient Eagles Glenn Frey, Randy Meisner and Don Henley, Ronstadt created a band that would back her unique torch-rock sound.
With the addition of manager/producer Peter Asher in 1974, Ronstadt added the missing ingredient to complete her musical metamorphosis.
Yet upon the completion of her 1980 U.S. tour to promote Mad Love, her most recent album, the thirty-four-year-old First Lady of rock and roll decided to take on a new musical challenge - the opera.
Relaxing at the Uris Theatre in Manhattan, Ronstadt, wearing no makeup and dressed in a pink medium-length dress and cowboy boots, spoke with excitement about her theatre experience.
"Coming from the concerts, this is a treat," she said of her Broadway debut. "I'm used to working in boxing arenas and hockey rinks which are acoustical nightmares. This is so much more acoustically reasonable than anything I've been singing in during the last seven or eight years."
Originally, Ronstadt joined the N.Y. Shakespeare Festival's production of Pirates last year when the operetta opened for a limited engagement in New York's Central Park.
"It was so good in the park I thought," she recalled. "It was so special there just because of the setting with the pond behind the stage and the actual reality behind it - it was so adorable. I felt like I did at summer camp. We could be real ridiculous about it."
Besides the challenge of tackling Broadway itself, Ronstadt chose to continue her opera experience for another reason. Said the singer, "In some halls the sound is so bad you can't hear it at all, which is one of the reasons I wanted to come here and do this. I wanted to do something in a place designed for music."
Both Academy Award-winning co-star Estelle Parsons and director Wilford Leach were impressed by Ronstadt's dedication and musical expertise.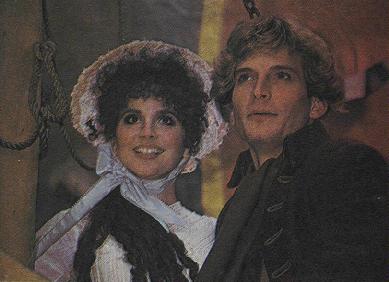 They (Ronstadt and co-star Rex Smith) relate to music and all that amplified-sound stuff," Parsons said in her dressing room. "They really know so much more about sounds and instruments and working with music. It's very interesting to see the expertise they have."
Said Leach, "Because of her experience (during the summer), her voice is much stronger; she's freer and she's come a long way. She maintains her position as a member of the company and not as a star. She's reached a certain point in her life and she wants to grow and expand."
"The low stuff for me is harder to sing than the high stuff," Ronstadt pointed out. "It's been such an education for me because I didn't know about all this. I sing instinctively, using different textures because in pop music you do that a lot.
"I'm so used to singing by braille, I know by the feel in my throat because the din (in concert halls) is so deafening," she added. "It's been great taking voice lessons to learn how to do it."
Ronstadt had little formal musical training before her theatrical initiation. But, from talking to her, one would never know it. In fact, she reveals a surprising amount of musical knowledge.
Referring to her solo at the beginning of the first act, she noted: "The cadenza at the beginning is the most difficult because this is an operetta that's made to be a parody on opera. That cadenza is like a parody of a real cadenza. And it's written, in a way, to be like clowning."
However, despite such an understanding of the piece, Ronstadt also expressed some frustration in attempting to conquer this musical challenge.
"But it's very difficult to execute," she said of the cadenza. "It's not that it's high. It's just if you could read music on the page, you'd get scared. It looks like someone threw a handful of gnats at the page and they all stuck. A million high, fast little notes. And it's just hard to do."
With a touch of humor and wit, Ronstadt defined her musical expertise as a combination of natural talent and years of hard work.
"The range hasn't been hard for me," she said. "In fact, some of the songs we put up higher because I have such a real high voice. I've had this range since I was six years old. But I never used it. I can't read music very well. I learned the Pirates score by listening to the record," she said with wry humor. "Just like I learned Back in the U.S.A. Yeah, I learned everything by listening to the record. When it gets to be too many notes on the page, I can't do it. I get scared of myself.
"I have all these different voices I use," she continued. "There are about four breakdowns on the way up, and the interesting thing about the voice is that between an E and an F there is another register break that is just as much of a register break as going from what I think of as my chest voice to my upper extension, which is my high voice."
Tracing her singing experiences, she remembered, "My brother was a boy soprano. That's the first person's singing I ever tried to copy."
She concluded her theory of singing by stating, "Partly it's the shape of your vocal cords. I really think high or low. Ultimately, whatever quality you can get is the most important thing. But, it's handy to have all those high notes."

Since completing her Broadway stinit (a soundtrack LP was released), Ronstadt has already recorded two new albums for Elektra/Asylum. The first, a collection of jazz and blues tunes made famous by the likes of Sarah Vaughan, Billie Holiday and Ella Fitzgerald, features a number of top session musicians and production by Jerry Wexler. The second, for which Ronstadt teamed up with her longtime producer Peter Asher, will be issued this fall to coincide with the singer's tour. Although the Wexler-produced LP was recorded first, it will be released after the Asher disc.
It shouldn't come as a surprise that Ronstadt viewed her Broadway engagement as an important musical accomplishment. Trading in a rock singer's nomadic life style - the strain of traveling from city to city, day after day - for Broadway and the convenience of appearing nightly in New York must have been a pleasant change of pace for someone who has paid her dues and doesn't want to be remembered as just another pretty face belting out a tune.
---
Thanks to Harold Wilkinson for providing this article.