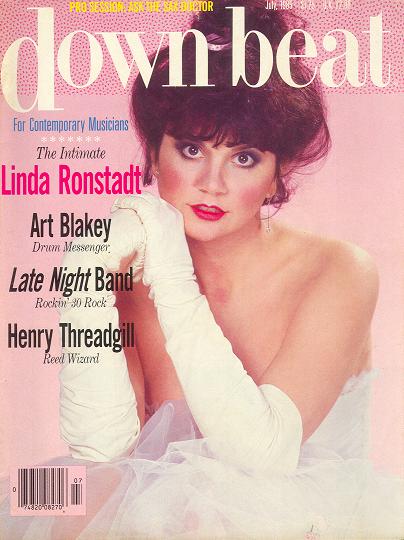 Linda Ronstadt is into French poodles these days. Basking in the glow of two consecutive platinum albums- filled with orchestrated arrangements of what she calls "American jazz standards"- she would have us believe that her skateboarding days are over. Actually, unlike most rock standard bearers- Mick Jagger, Rod Stewart, Tina Turner- Ronstadt has just been acting her age (39). Rock & roll was never intended for anyone over 30, and perhaps with this in mind, she recruited the legendary arranger Nelson Riddle and recorded What's New and then Lush Life- both homages to Frank Sinatra in particular and the American song tradition in general.
Ronstadt was always into covering pop classics- Heat Wave, Ooh Ooh Baby, Hurt So Bad- but to some this conversion to a '40s-style "saloon" crooner has been a bit much. For every one of her new fans gained, she's surely lost a Ronstadt diehard who's worn out every track on Heart Like A Wheel. We want our idols never to change, and Ronstadt, for better or worse, has definitely changed. In fact, she's not only been busy romanticizing a jazz era long past, but has starred in two operas- Pirates Of Penzance and more recently La Boheme- since departing from the rock scene.
In conversation, Ronstadt sounds just as you might imagine her- perky, opinionated, bright, self-assured. She laughs often, answers questions directly and honestly (often at great length), and says things like "gee" and "gosh" a lot (she does curse). For whatever the reasons, she had problems remembering song titles and people's names during this interview, causing her at one point to confess, "I think I'm suffering from early brain death." But Linda Ronstadt's no dummy: her records, regardless of their content, continue to sell. Bringing Nelson Riddle out of semi-retirement (it was her idea to contact him) was nothing but a stroke of genius. And getting out of rock when she did wasn't such a bad idea at all. Could Linda compete with Cyndi Lauper, whom she admires, for the teenage crowd? It's doubtful. But don't count her out of rock yet; in the following interview, Ronstadt gives every indication that she has a few more tricks up her sleeve.
---
---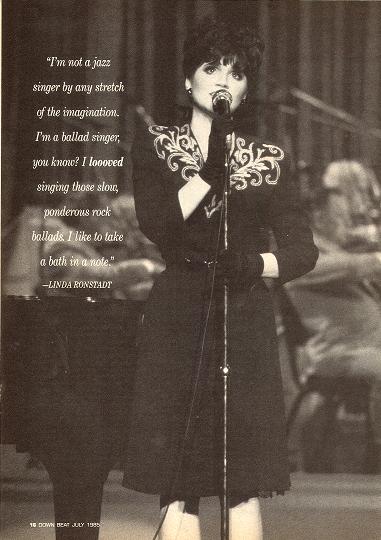 Steve Bloom: I've heard this story that you were turned on to jazz a few years ago by Mick Jagger. Is this true?
Linda Ronstadt: Yeah. It hadn't even occurred to me to sing jazz-type standards until I got a Ben Webster and Charlie Parker album that Mick gave me. We were sitting around listening to it one night and I said, "Gee, that record's so good," so he gave it to me. I took it on the road and I used to play it at the end of the shows. The songs just hypnotized me.
SB: What were some of the other jazz influences in your life before then?
LR: My dad gave me a duet album with Ella Fitzgerald and Louis Armstrong when I was about eight or nine. He gave my sister a Billie Holiday record and he gave my brother a Django Reinhardt record. Those were really the three records we had from that genre.
SB: Has Ella had a major influence on you?
LR: My favorite singers are always the ones who pay the most respect to the melody- who can riff, but basically are kind of restrained. Ella is really terrific at that- she sings the melody very, very clearly, and then every once in a while she makes an excursion to another planet.
SB: Which other jazz singers have influenced you?
LR: Betty Carter completely slays me. That record with Just Tell Him I Said Hello on it just knocks me out. I love the way she sang the melody. That record was a big influence on me.
SB: How about Sarah Vaughan?
LR: I love the things she does from a musician's point-of-view. But if I wanted to learn a tune, I wouldn't study it from Sarah Vaughan. I admire her brilliance, but I don't think I would learn the tune as faithfully as from Betty Carter or Ella.
SB: What about male singers?
LR: I think Louis Armstrong's the best!
SB: Anyone else?
LR: Yeah, my dad. He's got one of those rich, golden-honey voices. He sings a lot of very turn-of-the-century revolutionary stuff in Spanish; I guess you can call it Creole music. Dragged triplets is what comes to mind when I think of that kind of Creole music. He really had a lot of influence on me.
SB: What else did you listen to growing up besides the jazz records?
LR: The rest of the records we had were Mexican records. More often than not we would sing in Spanish; we didn't sing in English that much until we were teenagers and we discovered folk music. We used to get banjos and try to be bluegrass people. Then somebody turned me on to Frank Sinatra and Ray Charles when I was 18.
SB: Who was that?
LR: Actually, J. D. Souther turned me on to Sinatra and a photographer friend turned me on to Ray Charles. I remember going, "Wow, this is great." J. D. was the one who made me listen to big band stuff. I wasn't even aware that you were allowed to like a big band.
SB: It's hard to believe that vou had to be "turned on" to Sinatra.
LR: When I was 17 I was really into folk music. I mean, everybody was listening to Bob Dylan; that's all anybody would play. But I had a boyfriend who bought that Only The Lonely [Sinatra] record. I remember him telling me that it was really good and I went, "Nah, it's not Dylan." Then years later, J. D. told me the same thing.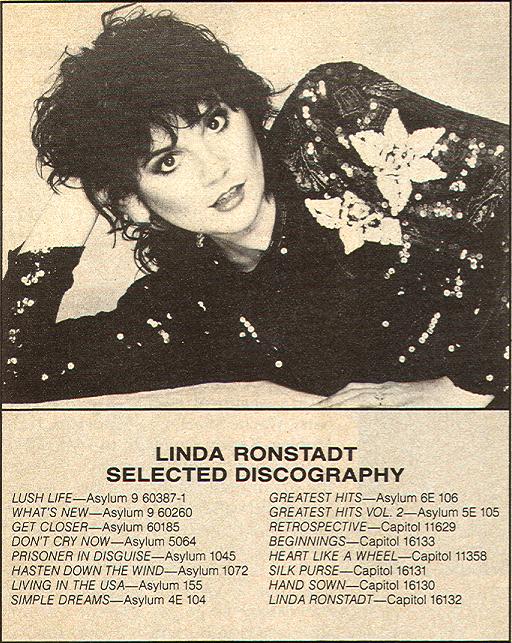 SB: Sinatra was pretty passe during the '60s.
LR: He was. He represented our parents. And I didn't like those big, orchestrated arrangements- except when I heard Nelson Riddle. To me, he was the only guy who put jazz in an orchestra without losing the integrity of either form. When I would hear those kinds of jazz songs coming out of an orchestra by anyone else but Nelson they would sound kind of dinky.
SB: Where does Ray Charles fit into this puzzle?
LR: It's just that when I listened to him, I began to understand what a big band could do. At some point we began to look at big bands as things that played in Las Vegas and on television shows, and that was something we didn't like. The big band was exploited on tv, made to do so much hack work that it didn't occur to me for a long time to go back and listen to what a big band really could do. But the stuff that was most accessible to me as an artist was the stuff that was in Sinatra's style- and I consider Sinatra a jazz singer too, even though I don't think he can riff and he can't swing like Ray Charles. Somehow I consider him a jazz singer.
SB: Do you consider yourself a jazz singer at this point?
LR: I'm not a jazz singer by any stretch of the imagination. I'm a ballad singer, you know? I've always done ballads on my albums. I loooved singing those slow, ponderous rock ballads. I really don't like to sing uptempo material very much. It doesn't give me enough long stretches. I like to take a bath in the note.
SB: I guess this explains What's New. For a Nelson Riddle record it was almost mysteriously low-key.
LR: We did that on purpose. I wanted the first one to have a mood- a very introspective, concentrating mood. Only The Lonely was like that too. The second one [Lush Life]- even though it had songs which are basically about sad things on it, like It Never Entered My Mind- had a perkier approach.
SB: At first, I thought you were afraid- perhaps even intimidated- of doing uptempo songs with Riddle. Then I heard the three numbers on Lush Life, which clearly proved that wasn't the case.
LR: I had recorded uptempo songs for What's New, and I thought we did them well, but they just didn't fit. I did a Fats Waller tune and Falling In Love Again and that Frank Loesser tune, Oh Never Will I Marry, which we actually have had trouble with. We've never been able to get an arrangement for it. It's a great song; Ijust love it. But when I played them all together they broke the mood, so I didn't use them. We had so many songs for Lush Life that we still didn't use Keeping Out Of Mischief Now. That's in the can ... waiting. One of these days it will come out.
SB: Are you planning to record a third album with Riddle?
LR: I had so much fun doing Lush Life- we got to hire Marshall Royal [Lionel Hampton's arranger in the '40s and Count Basie's lead alto] and got to use a different kind of drummer for the uptempo songs- that I'd like to try to do some more of those swing songs. I like that Songs For Swinging Lovers album [by Sinatra with Riddle]- I listen to it a lot, and I'd like to experiment a little bit with some of those things. But I haven't really sat down and made a list of what the next Nelson album is going to be, so I'm not really sure. Got any ideas?
SB: How about I've Got You Under My Skin?
LR: That's sooo good.
SB: Let's backtrack a few years to when you decided to record What's New. What exactly caused you to make such a radical break from the rock scene? After all, you were considered by many to be the goddess of rock & roll.
LR: This is exactly how it happened: I was working in New York on Pirates Of Penzance [in 1982]. Jerry Wexler [the veteran record producer] invited me out to his house one day. So there we were sitting on the lawn listening to this Mildred Bailey record and I said, "Gee, it would be fun to learn some of these songs." And then I thought: it would be fun to record them. Once we started talking about recording them, Jerry kept saying, "You can do these songs." I kept saying, "No, my phrasing isn't good enough. I don't have enough technique to do this. I'm too sloppy." But Jerry kept saying, "You've got the chops, you can do it." He deserves a lot of the credit for not only encouraging me, but getting me into this sort of music.
SB: Did you ever record any material with Wexler?
LR: Yeah. We went into the studio and made a demo- with Tommy Flanagan [on piano] and a bass player and drummer I can't remember. We did Someone To Watch Over Me, Lover Man, and my favorite one, I Don't Stand A Ghost Of A Chance With You. We did them in a hurry, in about an hour-and-a-half. They weren't very good. I did it before the evening performances of Pirates, and I was dead tired; I had no voice and my phrasing was terrible. But it was intriguing enough. I remember feeling seduced by the music; in fact, I was completely gone. It was like falling in love and never being able to look at anyone else. I was totally captivated.
SB: When did you get in touch with Nelson Riddle?
LR: Not for awhile. After finishing my run on Broadway, we recorded an album in three days. I just don't work like that- I can do one song a day, but I don't like to do everything in three days. Jerry Wexler is a different kind of producer, he has a different method. I said, "I'd like to rehearse," and he said, "Oh, you don't want to pay the band to rehearse all those days." But I always do that. I needed to sit down, just like I did with my rock & roll records, and figure out which musicians will be good for me. We had more players on this record- sax, trumpet, and Tal Farlow on guitar. They were all really hot players. To tell you the truth, I was more than a little intimidated by them.
SB: Who arranged the session?
LR: Al Cohn. I think he's a real good musician and I liked his arrangements. But I have a particular way of making a record: I rehearse with the band and I have to have a big hand in the arrangements. I can't have somebody say, "Look, here's the arrangement. We're going to cut it like this, then I'm going to mix the record, and you just go home and knit." Ijust can't do it that way. I like having my hands on the board when we're mixing. If I had been able to work the arrangements out with Al, I think we would have had a lot more success.
SB: It doesn't seem like you were very happy with the session. Was your phrasing any better?
LR: My phrasing wasn't comfortable and I was still very intimidated by the material. I thought that maybe it was just because I couldn't sing it. For example, when we tried to do What's New, Jerry said. "You just can't sing this tune. It's not a good tune for you." I was really disappointed. It's hard to explain how a singer feels when they really want to do a tune and they can't- it hurts my feelings and kind of breaks my heart. So I went back to Los Angeles and played this record for Peter [Asher, her manager and producer]. He thought it was awful. And I played it for J. D. and he said, "No, that doesn't cut it." So I ate the cost of it and said that I wanted to re-record these tunes, and everyone just went, "I don't know, I don't know."
I was getting no enthusiasm from anybody. Peter didn't want me to do it- he's not into that kind of American music- and the record company [Elektra Asylum] was going, "Forget it." So then I went to England to do the movie of Pirates and then I came back and cut Get Closer, because I was really overdue for an album and we had all these tunes ready. But while I was doing it I was eating my heart out for the songs that were on What's New. I really was- it was all I could think of. When I was in the tub I'd sing them all the time; it was like I was heartsick for it. Then, while we were doing Get Closer, I said, "Maybe we can do just one of these songs on it." At that point, I would have sold out my best friend to figure out a way to get into the studio with Nelson.
SB: The suspense is killing me. So how did you finally get in touch with Riddle?
LR: Peter called him and asked if he'd be interested. He said he'd be glad to come over.
SB: That's the whole story?
LR: Well, I honestly didn't know if he was still alive, if he was still working, if he had ever heard of me before, or had heard of me and thought I was horrible. I don't think he knew very much about my singing. He doesn't like rock & roll at all. But he's a professional, so he came down to see if this was anything he could bear to do. When I got Nelson in the studio I said, "Can you just do these three songs with me?" In the back of my mind I thought if I could just get these three things recorded they'd sound so good that I could convince people. But Nelson said, "I don't like to do that. I've turned down almost everybody who's ever asked me to do album cuts; I just do albums." And I said, "God, if you want to do an album with me, let's do it." So we started up. All I needed was one person to be as enthusiastic about the idea as I was. And Nelson became that person.
SB: So you finished Get Closer according to the original plan and started working immediately on What's New?
LR: We went right into the studio and cut three songs: What's New, Someone To Watch Over Me, and a third song I can't remember. I knew I could sing What's New, and I was right. I played the songs for J. D. and for Andrew Gold, who likes orchestrated music- they both went nuts. I played it for Steve Martin, and he liked it too. They all pushed me to finish the project. So I went back in, I finished the rest of it, and I was never happier singing. I just never had as good a time singing as I did doing that record.
SB: What's it like to work with Nelson Riddle?
LR: He's very sardonic and he's honest; he's very straightforvard about stuff. I started talking about these songs and we just had an instant rapport. I pulled out this list of stuff and we ran to the piano in the other room. It was so cute: he brought the original sheet music that he had written his original conductor's notes for Sinatra's I Guess I'll Hang My Tears Out To Dry. We started to play it and I remember it was so freaky to see him cross out Frank's key. He took his pencil and crossed it out very casually, and put my key over the top and started making new notes. lt just seemed to me that that piece of music should have been framed and set down in history.
SB: Do you work out the arrangements with Riddle?
LR: We work out the basic arrangements with the rhythm section first so that I can have as much input as possible. Then Nelson comes in and writes the charts. And then the pianist and I come back and rehearse them again with the charts. Then we go in with the orchestra and record it. For Lush Life we put it down with the rhythm section and then overdubbed parts of the orchestra. Nelson hadn't worked this way before, but that's the way we've always done it- it's so much more efficient [to overdub]. What's New we did all live.
SB: Who picks out the material?
LR: Every once in a while somebody throws in a suggestion, but almost always I find the songs myself. Pete Hamill [the New York-based newspaper columnist and occasional jazz writer] sends me tapes all the time, because he has an incredible record collection. He suggested It Never Entered My Mind [on Lush Life] to me; I didn't think I could sing it. He also suggested I'm A Fool To Want You [also on Lush Life]. At first I didn't like it because the bridge dragged too much, so I put the bridge into double-time, and then I liked it better.
SB: Why so many songs from the '20s and '30s?
LR: It's a funny thing, but I have an affinity for anything that was written in the first 20 to 30 years of this century. When I sat down and analyzed the structure of a song like Bewitched I just thought: boy, I envy the person who got to sing it when it first rolled out of the writer's pen. I passed over it because I felt that it had been done so much that I didn't know quite what I could've added to it. But, on the other hand, there were songs like Someone To Watch Over Me that have been done just as much, maybe more. But I couldn't not sing it. It was just too good a song to ignore.
SB: In a review of Lush Life, one of your critics asked: "For this she gave up Buddy Holly?" Care to respond?
LR: You don't give up anything, you add to. I don't lose the ability to sing anything that I've ever sung. Frankly, I think I do a much better job on George Gershwin songs than I ever did on a Buddy Holly song. I would rather hear Buddy Holly sing any Buddy Holly song that I ever sang. I feel like I have more of a contribution to make to a Gershwin song than I do to a Buddy Holly song.
SB: I read where you said, "If someone brought me a new Elvis Costello song and put it side by side with something by George Gershwin there'd be no contest." That's really an unfair comparison, don't you think?
LR: It was just the first thing that came to mind. I was asked what I missed about rock & roll, and I thought of Party Girl [written by Costello], which was one of those rock ballads that I always liked better than the audience did. But to sing a song like Skylark? Skylark is just an incredible adventure to sing- I just love it. It is unfair to compare them, though.
SB: What else do you miss about rock & roll?
LR: I used to love to do a song like Can't Let Go [from Mad Love] on stage. My show was vocally athletic then; at the time, I thought it was the best rock & roll singing I'd ever done. I used to come home and die after the show because that song and Party Girl and the rest of the songs from Mad Love had a lot of yelling and screaming and were so demanding vocally. The new stuff that I'm doing is really demanding too, but it seems to soothe me at the same time. It feels good for my voice to do it- it's like working out the muscles carefully instead of pounding on them.
SB: Did you really mean it when you told a writer, "I don't care if I never sing Heat Wave again"?
LR: Let me explain that. I sang Heat Wave and songs like Silver Threads And Golden Needles for a lot of years. I think it's amazing that I was able to sing them for 10 years and still like them by the time I was finished singing them. The problem is you can only sing a song so many times with the same arrangement, and you can't change the song too much because it will cease to be what it is. You can only get so much mileage out of them.
SB: Are you saying you're finished with rock & roll?
LR: I'll only come out with another rock & roll album if I'm walking down the street one day and bump into 10 songs that I really have to sing, which very well may happen in the next three months. I really love rock & roll. I have a jukebox in my kitchen that's got only rock & roll on it- except for a couple of Sinatra songs. When I come home at the end of the day and I'm tired and I'm kind of bummed, you know, I punch up Soul Man on the box. It makes me feel good.
SB: Which rock groups and singers have you been listening to lately?
LR: Well, my very favorite band is Tom Petty & the Heartbreakers. I just love them. And I love all these girl singers that are out- Cyndi Lauper and Annie Lenox [of the Eurythmics] and that girl guitar player who sings in telegram... she's a real sparse singer ... Chrissie Hynde [of the Pretenders]. I think those girls are real hot stylists. Cyndi Lauper is the one that really kills me. People have paid a lot of attention to her orange hair and stuff like that, which is cute, but I don't think they realize how good a singer she is. I saw her live, and she has staggering technique. And lots of heart.
SB: What did you think of Tina Turner's comeback?
LR: I was just delighted. Tina was the girl we all idolized. She is the standard for American female rock & roll; everybody who's ever sang a rock & roll note has to pay a courtesy to Tina Turner. People always say, "How can you sing rock & roll after you're 30?" This just makes me laugh, because no music has anything to do with age- it has to do with culture, period. And as the culture matures, the form will undulate and expand and contract and bend.
SB: It seems like you're not quite sure of which direction to go next.
LR: I'm in the studio right now with J. D. Souther, you know- we're doing duets together. I haven't exactly abandoned that. I think the record company would like me to make rock & roll records, because it understands them. They are very patient when I come to them and say I'd like to make a record in Spanish and I'd like to do this and I'd like to do that.
SB: A record in Spanish?
LR: Yeah. I've always wanted to make one, but when I say that to the record company, they very rightly say that a Spanish record would have a limited audience. I did Blue Bayou in Spanish. I was trying to appease myself, but it didn't work. I want to get Paraquayan harp and a good guitarron player and just make a Mexican record. And I don't care if English-speaking people don't buy it, I really don't. All the Mexican songs I love are from the '20s- they're just gorgeous. I wouldn't do the Mexican Tin Pan Alley stuff or what are considered the classic latin songs that people put on their records. Who's that guy with the suntan and the pretty voice?
SB: Julio Iglesias?
LR: Oh, yeah. He's got a good voice and everything, but that's not where I'm aiming.
SB: You're not concerned with record sales?
LR: Nah. I never think of that, and I don't think you can, really. I mean, you have to consider it only to the extent that it would be silly for me to try to make an album of Scottish lullabies or something. My instincts are generally pretty sound. But, again, my instincts are not based on what I think is going to sell. They only are based on what I would like to express.

---
Thanks to Marsha Burghoff for providing this article.
---