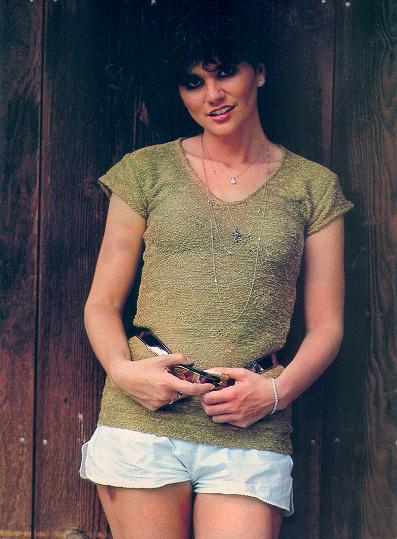 Peter Asher, who shared vocal chores with Linda on the recent tour, calls it "one of the fun tours we've had... some tours, you know, are more fun than others."
"Linda is really enjoying herself right now," continues Asher, who matches his protégé in the homily department. "And it was fun for me to be a part of it." Linda has something else to be happy about. Her new LP,
Living in the U.S.A.
(Asylum), shipped 2.1 million copies, making it the label's biggest shipment ever (surpassing the Eagles'
Hotel California
).
Linda's new LP is a carefully-paced compendium of different styles, with vocals dominating instrumentals at every groove,
Living in the U.S.A.
has everything from Chuck Berry's rocking title cut, to the Peter Pan-like lullaby of "When I Grow Too Old to Dream" to the slick Motown sound of Smokey Robinson's "Ooh Baby Baby."
One of the few instrumental high­lights is David Sanborn's pensive sax on Elvis Costello's "Alison." Otherwise, after her more blues-oriented recent efforts, Ronstadt seems to be making an effort. to touch any bases she might have missed.
Asher says he and Linda are also discussing the idea of doing a "rock musical" on Broadway, an event ru­mored for months. "Linda seems inter­ested," he says, "but it's all vague at this point." But this rumor has been buttressed by another, that Linda, a long-time California resident, has been looking for an apartment in New York.
Finally, Linda will probably be doing some eventual fundraising shows for her sometime beau, California Gover­nor and presidential-aspirant Jerry Brown. (Jerry's father, former Gover­nor Pat Brown, says he wouldn't mind if his son got hitched to Miss Ronstadt. But Jerry himself is only issuing the "she's a sweet kid" kind of statement).
For Linda, any excuse for singing is a good one. Now 32, she started 'her crooning around the house as a child in the early '50s, got serious about music after her freshman year at Arizona State University, and left Tucson for L.A. with a musician boyfriend. There she met Edwards and Bobby Kimmel, and the three formed the Stone Poneys, an acoustic band that played local clubs until a hit single, "Different Drum," propelled them to national prominence.
In 1969, Linda went solo, but it took four albums for her to find her niche. With Peter Asher as sole producer (her prior LP had credited three producers),
Heart Like A Wheel
, released in late 1974, fused country, cajun, "Tex-Mex" and plain hard rock into a platinum deluxe package.
Asher and Ronstadt now avoid dis­cussion of their musical direction. "We leave that to critics," says Asher. Musi­cally and personally, Linda is one of rock's more private aristocrats, stress­ing tight concert security and highly selective interviews. And with good reasons: she recently had to move from her Malibu home when a national maga­zine printed her street address.
However, she is no recluse in the L.A. rock scene, making regular ap­pearances with the iconoclastic Brown at the Roxy and other hot nightspots. Dancing and singing backstage with idols Mick Jagger and Robert Plant, Linda straddles the line between star and fan.
Should Linda actually become the next First Lady, however, those forays will probably end. Rock & roll in the White House is fine, if kept in the family.