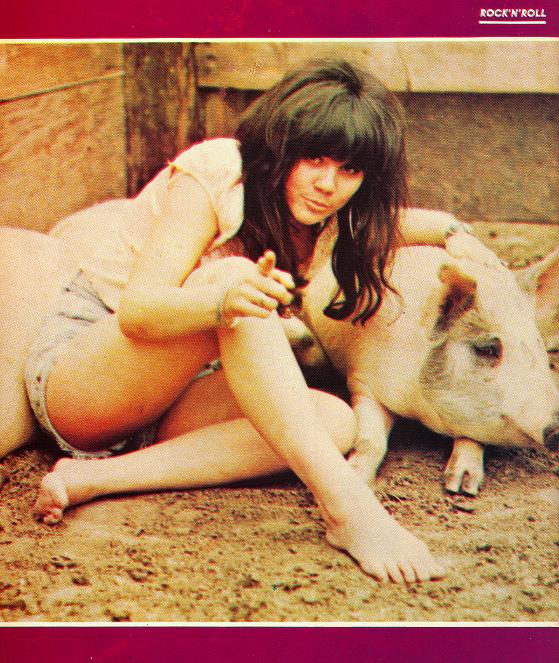 Linda Ronstadt likes lots of things. She likes not wearing a bra, and playing clubs, and hanging out, and being with people, and old houses, and she likes pigs. But best of all, she likes her new Capitol album,
Silk Purse
. The title of the album was arrived at after the photo session. Linda got the pig idea partly to keep her country image and partly because - well, she likes pigs. (She said, "I tried to feed one a ham sandwich and he wouldn't eat it. I was so proud of him.") During the shooting she jokingly said "We should call the record
Music From Big Pork
," and that was the working title for awhile. Then she and her manager decided that was a little tasteless and she came up with
Fresh Pork
. But that still wasn't quite right so her manager's wife thought of the old saying, "You can't make a silk purse out of a sow's ear" and
Silk Purse
became the title of the record.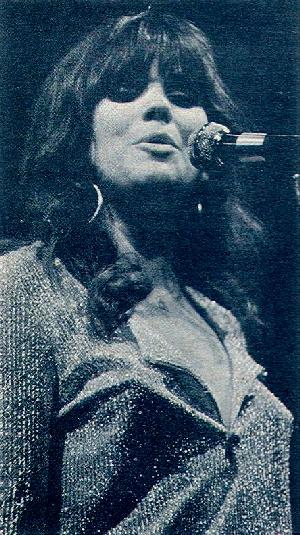 Linda was born in Tucson, Arizona and has been performing since she was a sweet little sixteen although she's been singing since she was about two. In Tucson, she sang a lot of background vocals on country and western sessions. She first made a name for herself in Los Angeles with a group called the Stone Poneys by way of a hit single titled "Different Drum." She then left to pursue a solo career and turned out one album previous to Silk Purse called Hand Sown. . . Horne Grown.
Another thing Linda likes is her new producer, Elliot Mazer. She's had numerous producer hassles in the past and she says she loves working with Elliot, that he's a delight to work with and indeed the current sessions mark the first time she has really been happy in the studio.
Elliot Mazer is certainly one of the better producers on the scene. He produced the second Paupers album, the James Cotton Blues Band, Ian & Sylvia and those Nashville cats of reknown, the Area Code 615 band. Mazer also is the inventor of several electronic recording devices.
Elliot brought Linda and the 615 band together and when they did a gig at the Fillmore West in February, Linda sang one song per set with them throughout the gig. The audience loved it and the band was overwhelmed. They were afraid they would not be accepted by the longhairs because after all, they are country boys from the south with short hair and relatively straight clothes. But, to quote a tried and true adage '"music is the universal language" and the kids (even the groupies) dug them. Linda dug them too and they can be heard on several tunes (probably about five cuts) on Silk Purse. Linda also likes Nashville and the portion of the album using the 615 band was recorded there. Also, some singer-songwriters whose work she likes very much is included on the record. Most prominently represented is Gary White, a Texas boy whose main axe is bass though he plays a little of everything. Gary used to be in a group called the Lost Sea Dreamers who changed their names to Circus Maximus and did two albums for Vanguard. Jerry Jeff Walker came out of that group and it was when Jerry split to go solo that the group broke up. Anyway, Gary has been hanging out in New York for the last few years, just playing and writing. He played some live gigs behind Patrick Sky and was the bass player on Paul Seibel's album. Gary's a real good bass player but he's a terrific songwriter and Linda has included three of his songs on Silk Purse. They are, '"Long Long Time," "I've Said Love So Many Times," and "Nobodys." The latter is a tune about a girl who has become withdrawn and can't handle it anymore. You have to hear the whole song. It just could become a classic.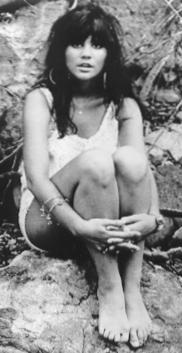 Paul Seibel is another singer-songwriter who is represented on the album. The song Linda sings is "Louise." It's the life story of a truck-stop whore. Now that may sound funny but so would "Eleanor Rigby" if all you knew was that she was an old lady who picks up rice in the church after weddings. It's actually a lovely, sensitive song (though not without humor and irony) with the ability to move one to tears just because it's so real. Linda had wanted to record the tune since first hearing it but she wasn't sure she could sing it well. The way it came to be on the record was when she and Gary White and Elliot and some others were in the studio doing preliminary demos for the album. They had worked hard and about three in the morning everyone was exhausted and had their coats on - ready to leave. Linda sat back on the console in the control room and "Louise" just started rolling out. Gary said "let's do it" and he grabbed a guitar and they went out into the studio and did one take with Gary on guitar and singing harmony. Elliot leaned back in his chair and fell asleep and they didn't even listen to the take until several days later. When they did it, it was right there; the song was just there even though it had only been a demo. And that's the track that will be used on the album. They may overdub some fiddle or something but the vocal track was one of those early morning spontaneous things that was captured on acetate for others to share.
Silk Purse also contains a new Mickey Newbury tune called "My Thoughts With You." Mickey is a prominent songwriter in both the pop and country fields. He wrote the First Edition's hit "Just Stopped In To See What Condition My Condition Was In.'' A song by a young Nashville girl named Diane Davidson who Linda says is a writer to watch. A couple of old rock things, one is "I'm Leavin' It All Up To You," the other, an old Shirelles song, "Will You Still Love Me Tomorrow.' The latter is the A side of a single which is already out. And a good record it is too. Sort of cookin' country, soulfully done.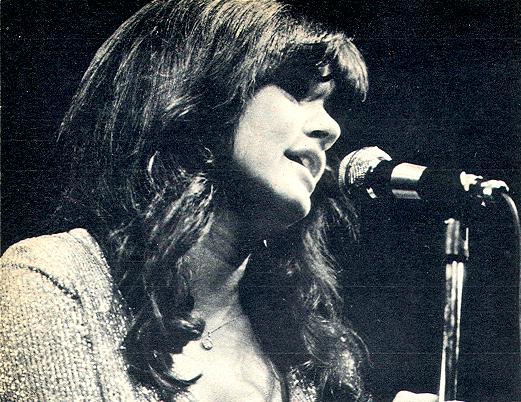 The B side, which will also be on the album is an old tune that Hank Williams made popular, "Lovesick Blues." DJ's may have trouble deciding which side to play because that A side, B side thing is sometimes meaningless when it comes to musical taste.
The rest of the album was done in L.A. with the group who backs Linda in personal appearances.
Linda has been known to complain about a few things in the past. She claims she never likes her own records. But happily she likes this new one and she likes the cover so much that she wants it released even if they don't release the record.
She also likes Johnny Cash and while in Nashville she taped a Johnny Cash TV show, the second she has done. On that show along with Linda was Burl Ives, the old granddaddy folk singer who has become involved with ecology and conservation. They both agreed that war was bad enough but that if we upset the balance of nature, we're really in trouble. Linda has lived in L.A. for several years (though she no longer has the house in Topanga Canyon) and knows a little about pollution from breathing all that smog.
Linda Ronstadt likes more things than she doesn't and that's a good sign. Any girl who likes pigs and unrestrained breasts can't be all bad. When we asked her if there were any juicy bits of exciting info for our readers she laughed and said "I know some gossip but I don't dare tell. Phil Morris